Supreme Court refuses to hear A6 appeal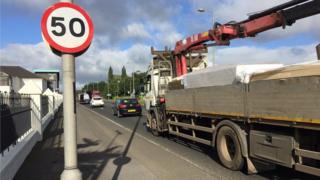 The Supreme Court has decided not to hear an environmentalist's appeal against a £160m County Antrim Road scheme.
Chris Murphy had applied to it to list his appeal against the route of the A6 at Toomebridge.
He had previously lost cases in the High Court and Court of Appeal in NI.
The decision of the Supreme Court effectively ends any domestic legal challenge to the scheme which is currently under construction.
But Mr Murphy has said he intends to pursue the case at the European Court of Justice.
He had claimed that the selected route, which skirted an internationally protected wetland, would have an impact on Whooper swans which use fields there for foraging.
He claimed the proper impact assessment had not been carried out.
However, the Department for Infrastructure said the required checks had been done.
Lough Neagh and Lough Beg, which are close to the route of the A6, are internationally protected sites because of their importance to native and wintering fowl.
"My application was refused today, but I remain 100% convinced that the law is firmly on the side of these incredible wetlands, which are an irreplaceable habitat whose value to man and nature has not been given proper consideration," Mr Murphy said.
"It is simply perverse to allow this construction to go on and cause irreversible harm to a Special Protection Area when many alternative routes exist."