Sinn Féin claims constituency plan for NI is 'flawed'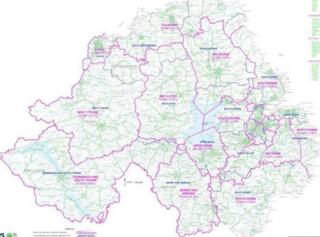 Sinn Féin has described the latest proposals from the Boundary Commission for NI for future Westminster seats as "fundamentally flawed".
In a submission to the Commission, it criticises the body's proposal to retain four seats in Belfast.
An original plan was to cut the number of constituencies in Belfast to three.
It also argues that the Commission has been "unduly influenced" by unionist lobbying, especially regarding proposed changes to Fermanagh & South Tyrone.
"The Boundary Commission produced a rationale in 2016 for the proposals that they had developed," Sinn Féin MLA Colm Gildernew said.
"They have not now explained how their proposals changed so drastically and so unusually to the proposals that we now see today.
"We would ask the Boundary Commission to very seriously consider how their proposals affect nationalist representation."
The deadline for responses to the Commission's revised suggestions is 26 March.
In January, the Boundary Commission for Northern Ireland rejected a Sinn Féin claim that proposed new parliamentary constituencies had been gerrymandered.
It said it is an independent body and rejected any suggestion of political interference.
The changes are part of a plan to reduce the membership of the House of Commons from 650 MPS to 600, with each constituency having an electorate in the region of between 71,000 - 78,000.
Although Boundary Commissioners in Northern Ireland have some latitude with this guidance a number of the proposed seats fall under the 70,000 figure.
The Boundary Commission for NI said they will not be commenting on Sinn Féin's latest claims.