RHI inquiry: Ian Paisley 'lobbied' Ofgem over application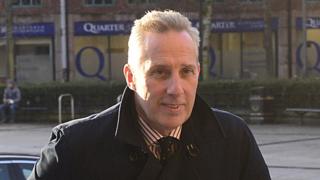 DUP MP Ian Paisley lobbied an official to accept an RHI application onto more lucrative tariffs as rates were being cut, the public inquiry has been told.
Ofgem official Teri Clifton helped monitor payments under the flawed green energy scheme.
The inquiry heard that in November 2015, she took a call from a business seeking accreditation to the scheme.
Mr Paisley participated in the call. Ms Clifton said it was "very intimidating".
In a witness statement, Ms Clifton said that when she took the call, she realised she was on speakerphone and was speaking to the applicants, their representatives Action Renewables, Mr Paisley and someone from Moy Park.
Later, during oral evidence, she said she had received no warning of the phone call and did not appreciate the position she had been placed in.
Sir Patrick Coughlin, the inquiry's chair, said it could be described as "intimidating, perhaps deliberately intimidating".
Ms Clifton agreed and, after asserting it had been "very intimidating", added: "I don't think it was intentionally intimidating, I think the intention was to catch me off guard and to make my decision look like the wrong one in front of that crowd of people."
Sir Patrick replied: "You were being presented with the applicants, their representatives Action Renewables, a very large poultry business and a Member of Parliament."
Ms Clifton agreed and said they had come through on her direct line without warning.
She told the inquiry that the business had missed the deadline for higher tariffs and, therefore, faced being put on less lucrative rates that had just been introduced.
The business blamed an IT problem at Ofgem for the delay and missed deadline.
Ms Clifton said it had simply not been submitted in time.
All those on the call wanted her to accept the application onto the higher tariff because the applicants, McNaughtons, otherwise stood to lose a considerable sum of money.
'Not a fair representation'
It emerged that later Mr Paisley wrote a letter about the case to the special advisor of the then DUP DETI (Department of Enterprise, Trade and Investment) minister Jonathan Bell.
The inquiry was told that in the letter Mr Paisley had given the impression that Ms Clifton agreed with the McNaughtons concerns about how their case had been handled.
She said the letter wasn't a "fair representation" of the discussions they'd had.
Ms Clifton also said a suggestion in the letter that Ms Clifton had "proved to them that there had been an IT failure" at OFGEM was "completely wrong".
She said the issue had been raised with OFGEM even though the McNaughton had missed the deadline by a matter of weeks.
It was later approved to the scheme, but on the lower tariff.
Ms Clifton said she believed the "lobbying" was due to the risk of reputational damage to Action Renewables, which had taken over responsibility for the application and had not submitted it when the applicant thought it had.
Her statement also revealed an executive department ran checks to see whether any special advisors (SPADs) were benefiting from the RHI scheme.
SPAD allegations
It followed claims that an unnamed SPAD had been "inappropriately claiming" on the non-domestic scheme.
In January last year TUV MLA Jim Alister used Stormont privilege to allege that former DUP SPAD Stephen Brimstone was using a non domestic boiler to heat his home.
Ms Clifton said an investigation found that the unnamed SPAD had been compliant with the rules of the scheme.
She said after the claim was sent to Ofgem by a whistleblower in May 2016, she was asked by the Economy department to identify whether any other SPADs were claiming.
Ms Clifton said after the whistleblower's SPAD allegation had been passed to the counter fraud team, a hold had been put on the payments.
She said the allegation was that the SPAD should have been on the domestic rather than the non-domestic scheme.
Ofgem asked for further information from the applicant and on that basis were satisfied that the accredited boiler was being used in a non-domestic capacity.
The SPAD was told that there would be no further action in September 2016.
The Renewable Heat Incentive (RHI) offered financial incentives if firms switched to renewable energy.
But critical flaws meant its claimants could earn substantial returns, far greater than intended.
Earlier, the chairman of the inquiry warned against media sensationalism.
Sir Patrick Coghlin made the remarks at the opening of Thursday morning's session.
He said that at the start of the inquiry he had emphasised the importance of dealing with the proceedings in a "balanced, fair and objective way".
Sir Patrick said that to date the media had lived up to his expectation.
But he said he was a "little concerned at the possibility of sensationalism arising again".
'Careful and balanced'
He did not specify any particular journalist or organisation in his comments.
"The important thing for this inquiry is to comply with its terms of reference," he said.
"It has a task to do. But as part of that task it must be able to welcome people who come to give evidence to it."
Sir Patrick said that did not mean issues which arose should not be covered by journalists.
"That's their task and they do it very well in Northern Ireland, but it needs to be done in a careful and balanced way," he added.
"Nobody is on trial before this panel. There is no power for this panel, even if it chose or wanted to, to impose civil liability.
"It is an inquiry with a duty to find facts and I simply say this to try and calm a little the way forward, because the panel needs to have objective facts and they need to be given by people who are confident of being dealt with in a fair and equitable manner."