NI newspaper review: Trump, DUP's Irish and Gerry Adams' beer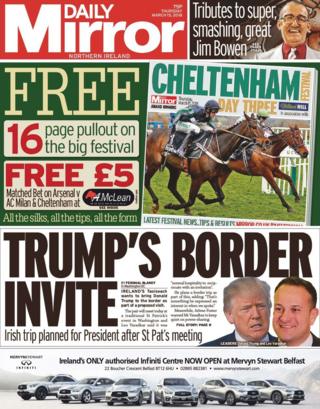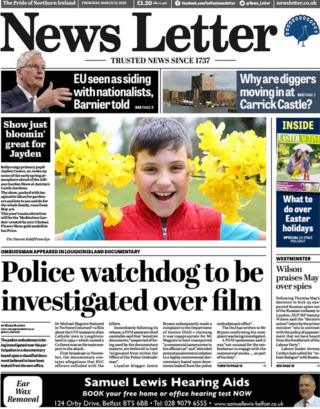 A presidential invitation, a DUP speech in Irish and a beer named after Gerry Adams are among the stories brewing up debate in Thursday's papers.
The Daily Mirror leads with news that President Donald Trump has expressed an interest in visiting the Irish border.
The US president made the comments to Taoiseach (Irish Prime Minister) Leo Varadkar, who is in Washington for the annual St Patrick's Day celebrations.
Mr Varadkar said the invitation to visit Ireland was "normal hospitality".
However, he added he was "not into golf" and so would not be playing a round with Mr Trump at his course in Doonbeg, County Clare.
'Outcry'
The Irish News reports on the death of a woman in her eighties who had spent more than 18 hours on hospital trolley.
The paper says a "passing paramedic" noticed the patient was suffering a cardiac arrest and immediately alerted staff at the Ulster Hospital.
Despite attempts at resuscitation, the woman died on Tuesday of last week.
When the paper asked if the case would be investigated, the health trust replied that both it and the patient's family "are satisfied the woman received the appropriate treatment, care and attention".
Most of the papers follow up on this week's revelation that civil servants do not keep notes of some Stormont meetings in a bid to thwart Freedom of Information requests.
The practice was confirmed by Northern Ireland's top civil servant, David Sterling, at the Renewable Heat Incentive (RHI) Inquiry on Tuesday.
The Belfast Telegraph says it has led to an "outcry" from freedom of information campaigners and concern from a watchdog - the Information Commissioner's Office.
A watchdog investigation also makes the front page of the News Letter - this time its Police Ombudsman Dr Michael Maguire.
'Leaked documents'
Dr Maguire is facing further scrutiny over his office's investigation into the 1996 Loughinsland murders, when six men were shot by loyalist paramilitaries.
Stormont's Department of Justice has confirmed it will investigate a complaint over Dr Maguire's participation in a documentary film about the shootings.
The complaint was made by loyalist blogger Jamie Bryson, who claimed it was inappropriate for Dr Maguire to participate in a film "based upon documents leaked from the police ombudsman's officer".
A row over Irish may have scuppered attempts to restore Stormont, but the DUP and Sinn Féin seem to be speaking the same language in Newtownabbey.
The DUP mayor of Antrim and Newtownabbey, Paul Hamill, received "loud applause" as he made a speech in Irish at Mossely Mill Theatre on Wednesday.
Sinn Féin MLA Declan Kearney tells the Belfast Telegraph it was an "important gesture" and he was "impressed with his fluency".
"I was very impressed with the blas that he used and his turn of phrase," says Mr Kearney.
'No drinking'
However, the paper also reports on a bitter row over a US company's decision to name a craft beer after the former Sinn Féin president, Gerry Adams.
Adam's Best is the product of Chicago-based beer company, Revolution Brewery and the firm's website hails the former Sinn Féin leader as being "instrumental" in Northern Ireland's 1998 peace deal.
Victims' campaigner Ann Travers, whose sister was murdered by the IRA in 1984, tells the Belfast Telegraph she is "lost for words".
"How can anyone be so insensitive?", she said, calling for a boycott of the bitter brand.
The paper also reports that the secret to long life is: "No drinking, no smoking and love the Lord," according to an east Belfast woman who is celebrating her 105th birthday.
Emily Desano, who was born the year before World War One broke out, managed to live independently until just three years ago.
Her determined attitude to life was clear from an early age, when a teenage Emily prepared to marry a foreign man who was 25 years older than her.
The now great, great grandmother recalls: "My parents didn't approve of me marrying an Italian, so I sent them to the wrong church!"