Reggie the firedog helps sniff out cause of fires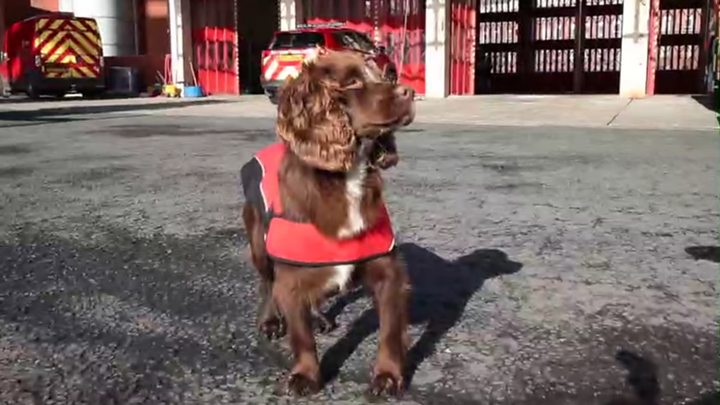 A specially-trained dog is helping the Northern Ireland Fire and Rescue Service sniff out the causes of fires.
Reggie, a four-year-old Cocker Spaniel, has undertaken specialist training to identify whether a fire has been started deliberately.
Based in Enniskillen, County Fermanagh, Reggie will be available to firefighters across Northern Ireland.
It's all down to his keen sense of smell.
Group Commander Geoff Somerville said: "Fire investigation dogs have been shown to bring many benefits including speed, reliability and efficiency when investigating the cause of fires.
"Their keen sense of smell - which is more accurate than technology designed to detect ignitable substances - helps fire investigation teams provide a higher level of accuracy.
"The speed at which they can sniff out ignitable substances has reduced the time required to investigate the scene of a fire."
He said the types of incidents that Reggie may be deployed to include fatal fires, fires where there is a likelihood of a fatality occurring and in suspected arson attacks.
Reggie may also be deployed to other incidents including those when the cause appears to be deliberate but cannot be easily established.
"Fire investigation dogs are used in a number of other UK fire and rescue services and we've been tracking the benefits that they bring," said Mr Somerville.
Rewarded with tennis ball
"Reggie is a great new asset for NIFRS and will be mobilised across Northern Ireland when a request is received by the lead fire investigation officer or indeed our colleagues in the Crime Scene Investigators Unit in the PSNI".
Reggie's owner and handler, station commander, Tim Richmond said: "I've had Reggie since he was a pup and knew that he would make a great fire investigation dog.
"He has had intensive training by one of the leading fire dog trainers in the UK and is certified by the Fire Service College in England. For Reggie it's all about sniffing out accelerants to achieve his reward - a tennis ball.
"I've seen at first-hand Reggie's detection abilities and I look forward to sharing his expertise with my colleagues across NIFRS."