'Not for Irish PM to chart Stormont talks', Foster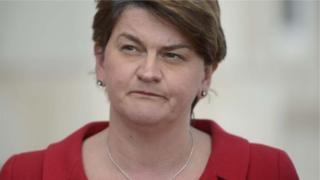 Arlene Foster has warned the Irish prime minister that it is not appropriate for him to chart the future of negotiations at Stormont.
Mrs Foster insisted that role lay firmly with the UK government.
She was reacting to a suggestion from Leo Varadkar that the UK and Irish governments might table their own joint proposals as a way to break the political deadlock.
Mr Varadkar also said efforts should be redoubled after Easter.
He was speaking in Washington at an event commemorating the Good Friday Agreement on Tuesday.
Northern Ireland has been without an executive since January 2017.
Several rounds of talks have failed to restore the power-sharing government.
The Democratic Unionist Party and Sinn Féin remain deadlocked on a range of cultural, social and legacy issues 14 months after their coalition collapsed.
Mrs Foster said it was not for the taoiseach (Irish prime minister) to suggest the next steps in efforts to restore power sharing.
'Internal matter'
"In keeping with the principle of consent and the three-stranded approach (framework of the Good Friday Agreement) it is not appropriate for the Irish prime minister to outline future political steps relating to Northern Ireland and a resumption of talks," she said.
"Whilst we will work with the Irish government on appropriate issues, the political process is an internal matter and should be taken forward by Her Majesty's Government."
Sinn Féin president Mary Lou McDonald, who is also in Washington DC, said any renewed process had to have a real prospect of success.
"We need to be sure that delivery is possible," she said.
"The taoiseach hasn't put any specifics on the table, we wait to see what he has in mind, and we will seek to meet with him."