Watchdog concerned by RHI meeting claims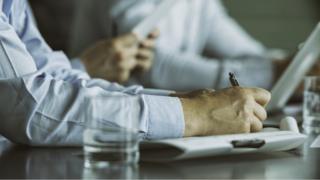 The Information Commissioner's Office (ICO) has said it will be contacting the head of Northern Ireland's civil service as a matter of urgency.
The ICO is the UK's independent body set up to uphold information rights.
A spokesman for the ICO said there were concerns about statements made by David Sterling, which indicated efforts were made to frustrate Freedom of Information requests.
The statements were made at an inquiry into a flawed green energy scheme.
Mr Sterling told the Renewable Heat Incentive (RHI) inquiry that the practice of taking minutes at ministerial meetings had "lapsed" after devolution, when engagement between civil servants and local ministers became much more regular.
But he said there was also an attempt to frustrate Freedom of Information requests.
He said the DUP and Sinn Féin were sensitive to criticism and in that context, senior civil servants had "got into the habit" of not recording all meetings.
The SDLP and the Alliance Party have said the comments needed explanation.
Where authorities or public sector bodies "repeatedly or seriously fail to meet the requirements of legislation," such as the Freedom of Information Act, or conform to the associated codes of practice, the ICO can take action against them.
Sinn Féin MLA Conor Murphy rejected any suggestion they have tried to hide anything.
"No Sinn Féin minister would have asked civil servants to break their own rules and regulations, or much less to breach the regulations in terms of FOI request," he said.
The DUP said it would be inappropriate to comment on issues that are the subject to a live public inquiry.