Health visitor shortage causing baby review backlog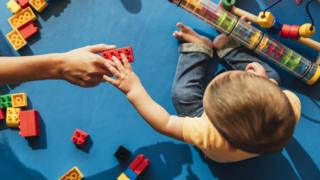 Almost 700 one and two year olds in the Western Health Trust have not had their annual review with their health visitor due to a staff shortage.
The trust said extra clinics were running in Londonderry to address the backlog in children's cases.
The Royal College of Nursing said the problem highlights a lack of workforce planning in nursing.
The BBC understands there are nine vacancies in the northern area of the trust and three in Fermanagh and Omagh.
Toddlers living in Derry, Limavady and Strabane are the worst affected.
'Action plan'
A total of 682 children did not receive either their first or second-year assessment over about a two-year-period.
Weekend clinics are now running using health visitors from the southern area of the trust to address the waiting lists.
The Western Health Trust told the BBC that cases have been prioritised and that no child was at risk.
Dr Bob Brown, the trust's executive director of nursing, said: "The action plan ensures that all of those children, and the number is over 600, will have their review undertaken within a three-month period.
"The action ensures that health visitors working in another part of the trust will undertake these review clinics and they will do so in such a way that every child will be seen quickly."
However, health visitors who contacted the BBC said they were concerned that some children would slip through the system as they have not been seen at a critical stage in their development.
Health visitors are registered nurses who have gone on to get an additional qualification.
They work with families identifying health and development problems with young children, including health inequalities.
'Regrettable'
One nurse, who wished to remain anonymous, said the problem had been allowed to drag on for too long and there were not enough nurses to deal with the volume of work.
Dr Brown said it was regrettable and accepted that it was impossible to rule out risk to every child.
"It is not possible to rule out risk in every child's case, but we are very confident that every child who is of a higher level of need has been assessed and their reviews are up-to-date and that those who are delayed will be seen quickly," he said.
The Western Health Trust said they have been aware of a workforce planning issue and are addressing it.
The trust said eight new health visitors were due to take up posts in September.