Major dig to begin at Carrickfergus Castle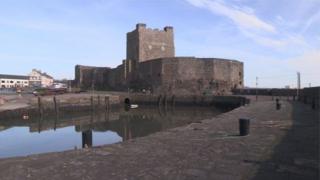 A major archaeological excavation at the front of Carrickfergus Castle, County Antrim, will begin later.
The dig will inform the next phase of conservation and presentation at the historic site.
Carrickfergus Castle is one of Northern Ireland's best-known historic monuments.
It has been in state care since 1928, and is now managed by the Historic Environment Division of the Department for Communities (DfC).
It dates back to the 1170s and is one of the most complete examples of Norman architecture in Northern Ireland, and one of the most complete castles of its type on the British Isles.
The excavation will investigate the ground at the entrance to the castle, where earlier investigations revealed buried structures and artefacts.
Iain Greenway, director of Historic Environment Division, said: "These works are to help inform how we re-connect the castle to the town, with heritage having a lead role in the social and economic prosperity of the whole area.
"The works will involve the careful excavation of the grassed area at the front of the castle's medieval gatehouse, and a portion of the access ramp that was constructed to the castle nearly 30 years ago.
"It is intended that public access to the site will be maintained throughout the works."
The excavation project is expected to take up to six weeks.
Once complete, the information gathered will help consideration of a possible redesign of the entrance ramp to improve access to the castle.
DfC principal inspector of Historic Monuments, Dr John O'Keeffe said: "Excavations at the entrance to the castle were carried out in 1950 by Dudley Waterman, and uncovered remains of a structure interpreted then as the drawbridge pit protecting access to the gatehouse.
"The new investigations will determine how much has survived under the ground, and how it can be protected in the course of new works.
"Temporary access arrangements will be in place from time to time during the works, but it is intended that that castle will remain open throughout.
"The works will offer visitors to the castle the opportunity to see the excavation unfold and archaeology revealed that has not been seen for many years."