Jamie Bryson's Loughinisland Ombudsman complaint investigated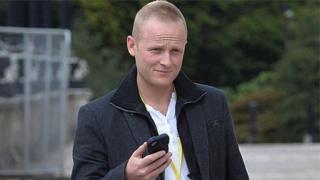 A complaint by loyalist blogger Jamie Bryson about the Police Ombudsman's participation in a documentary about the killing of six Catholics in Loughinisland is to be investigated by the Department of Justice (DoJ).
Dr Michael Maguire was interviewed for the film No Stone Unturned.
It named the alleged UVF killers and said they were helped by RUC officers.
Mr Bryson complained that the Ombudsman used an office car during filming and to attend screenings.
He asked the DoJ to investigate the complaint, in which he claimed it was a misuse of public funds to use an official vehicle in the making of a private commercial documentary.
In a letter to the department, he claimed the Ombudsman was in breach of his Code of Ethics which state that he should act "operating to the highest standards of propriety and probity in the stewardship of public funds".
Mr Bryson also cited a number of other alleged breaches.
He said it was "entirely improper" for Dr Maguire to take part in the film as it "was based upon a classified document 'leaked' from the Police Ombudsman's office" and claimed his participation had given "the appearance of bias".
The DoJ has now confirmed that, after taking legal advice, it will investigate the complaint.
In a letter to Mr Bryson, a DoJ official said it has written to the Police Ombudsman outlining his complaints and is expecting a response "within the next few weeks".
The move has been welcomed by the loyalist blogger.
"It is an important precedent that the legal advice received by the DoJ supports my assertion they are the appropriate body to investigate this matter and have confirmed they are now doing so," he said.
"I believe this complaint raises a number of serious issues and I look forward to these being robustly investigated."
A spokesman for the Police Ombudsman said the office could not respond in detail because the matter is now under investigation.
"However," they added, "on a more general level I would say that it is not unusual for the Police Ombudsman to visit people who have made complaints to this office.
"Nor is it unusual for the Police Ombudsman to engage with the commercial media - both newspapers and broadcasters - and with the BBC, as part of his duty to inform the public about the work of this office."
A spokesperson for the Department of Justice said: "The Department of Justice can confirm a complaint is being investigated. It is inappropriate to comment further."