Beating breast cancer with gene testing on the rise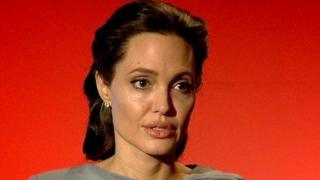 More than 2,000 women in Northern Ireland have been tested for the most common faulty genes linked to breast cancer - BRCA1 and BRCA2.
That is a 10% increase in 10 years with about 900 women in Northern Ireland testing positive for either gene.
Public figures such as Angeline Jolie speaking about their BRCA experience have led to more women coming forward to be tested.
But support groups are also being credited with highlighting the issue.
As a result, Northern Ireland has a much higher level of uptake than in England.
Breast cancer is the most common cancer in women in Northern Ireland - every year 1,300 are diagnosed and 300 women die from the disease.
Increased cancer risk
While more women coming forward to be tested is positive there is a call for better support services to be available following a diagnosis.
With the BRCA1 gene, there is an 80% risk of developing breast cancer and a 40% risk of developing ovarian cancer.
Robyn McCollum, a 20-year-old health and social care student, was diagnosed with having the BRCA1 gene two years ago.
"Generally, support is good for older people but for people as young as I am you maybe see the genetic counsellor a couple of times and then they kind of leave you to it," she said.
"You have to wait. I was 18 when I saw the genetic counsellor and they said 'see you in seven years' but for me that wasn't enough.
"I really pursued them and now I am seeing the clinical psychologist to get myself better equipped and get it together better."
Preventative surgery can be an option for women who carry the BRCA1 or BRCA2 gene. But the prospect of having both breasts and ovaries removed when there is no cancer present can be a traumatic decision.
Several female members of Robyn's family, including her mother, have had breast cancer. While difficult to handle, she told the BBC she wanted to know what was happening inside her body.
Family history
"Having the knowledge makes me more vigilant. It lets me know there are so many more precautions that I can take. It also allows me to plan for the future and decide when I want to have the surgery and if it is right for me. It is still scary."
While women in the general population have a 12% lifetime risk of developing breast cancer, having a BRCA mutation raises that risk to 50-85% with a high likelihood of recurrence or a second tumour.
Most cancers are sporadic and are largely due to chance and external factors like the environment and lifestyle but about 20% are familial or linked to family. Having a family history may increase a person's risk of breast cancer by 20-40%.
There is a good uptake of people being genetically tested in Northern Ireland. However, that can mean many women being left to make potentially life-changing decisions.
Robyn, alongside other women who spoke to the BBC, said support services must be there and preferably with little or no waiting lists.
Stuart McIntosh is a consultant breast surgeon in the Belfast trust.
He said: "It is not a decision we enter into lightly nor do we rush into surgery. There tends to be a general cooling off period between a woman receiving the diagnosis and deciding what she wants to do.
"I would argue knowledge is power. I think it's really important for these women to know their risk because they can manage that risk and there are other lifestyle things that we know will reduce breast cancer, like maintaining a healthy weight, minimising alcohol consumption and exercise."
Mr McIntosh also said genetic counselling was crucial.
Queen's University, Belfast, is among some of the world's leading universities researching cancer and potential treatments.
Vital role
Dr Niamh Buckley is researcher and lecturer in the School of Pharmacy.
She has investigated the role of the breast and ovarian tumour suppressor gene, BRCA1, in stem cell regulation and mammary gland differentiation.
Dr Buckley says the fight against cancer and breast cancer is improving and Northern Ireland is playing a vital role.
"Ten years ago if you were diagnosed with breast cancer you would have been offered chemotherapy. Now we are also able to offer more targeted drugs. These are drugs that are designed to work specifically with knowledge of the underlying disease.
"These drugs can include things like parp inhibitors which are used for patients with BRCA 1 and 2 mutations and these drugs will specifically target the cancer cells that are harbouring and this treatment tends to be less harsh than chemo and a little kinder on the body. "