Kilroot closure: Council faces £1.3m loss in rates income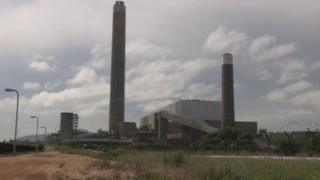 Mid and East Antrim Borough Council faces a £1.3m loss in rates income this year, with Kilroot power station facing closure.
The NI Affairs Select Committee heard it is the borough's top rate-payer.
The council chief executive, Anne Donaghy, said it has had to look at cutting services "to absorb" the hit, which would be £2m next year.
The loss roughly represents the cost of running its three leisure centres.
Kilroot's owner, AES, has said the closure of Kilroot, sometime after May, would cost 240 jobs, half of them contractors.
A further 30 jobs are under threat at Ballylumford power station in County Antrim.
Kilroot recently failed to win a major generation contract in an auction process to supply the all-island Single Electricity Market (SEM).
It had been likely to close around 2022 regardless, as its coal-burning technology would not meet environmental standards.
On Wednesday, in evidence to the committee, AES repeated its previous claims that closure could cause supply problems.
But it said it had no choice after its failure to win the contract.
MP Lady Sylvia Hermon asked AES: "Are you saying you would be bankrupt if you delayed closing?"
AES spokesman Ian Luney replied: "Absolutely."
A final decision on shutting it down will come after the Utility Regulator completes an assessment of energy requirements.
The auction process will result in savings of about £50m for consumers because generators would no longer be paid for capacity not required, according to SONI (System Operator for Northern Ireland).