NI newspaper review: Secret tapes and MLA embarrassment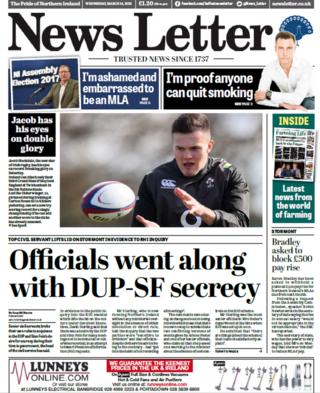 When you should and should not record the content of meetings with work colleagues is examined in two different scenarios in Wednesday's papers.
Staff at Belfast City Council have been warned they may be fired if they make secret recordings of meetings or conversations with their co-workers.
The Irish News says council staff have received an email from human resources informing them the practice must stop.
Records of formal meetings are already kept and staff can request copies.
'Desire for secrecy'
However, the email stated it was "becoming increasingly common for employees to record meetings and conversations with their managers and colleagues covertly, using mobile recording devices and more importantly, without their knowledge or agreement".
It warned such actions could be viewed as "gross misconduct" and lead to dismissal.
Meanwhile, the News Letter leads with the claim that Stormont civil servants developed a habit of not recording meetings to "acquiesce in the DUP and Sinn Féin's desire for secrecy".
The claim was made by Stormont's top civil servant David Sterling, who the paper says is now "running Northern Ireland" in the absence of devolution.
Mr Sterling was giving evidence to the public inquiry into the Renewable Heat Incentive (RHI) scheme, when he was asked about a lack of records between ministers and civil servants.
He said the two parties were "sensitive to criticism" and that the lack of minutes of meetings helped to thwart Freedom of Information (FoI) requests.
Another politician who is concerned about his public image gives a candid interview to the News Letter.
Ulster Unionist Doug Beattie says he is "ashamed and embarrassed to be an MLA" because he is being paid for a job he has not be able to do for more than a year.
He wants an immediate pay cut and calls on Northern Ireland Secretary Karen Bradley to "stop stalling" and reduce MLAs' salaries.
Mr Beattie tells the paper that MLAs don't go into politics for the money, and he left a "better paid job" to sit in Stormont.
However, he does appear to be a little concerned about his employment prospects outside the assembly.
"I left school at 16 and spent my life as a soldier," the UUP MLA says.
"There are not many employers who are going to be clambering for a 52-year-old uneducated soldier and failed politician."
'Industrial wage'
Politicians' take-home pay is also highlighted in the Irish News, which has been looking in detail at Sinn Féin representatives' donations to their party.
Sinn Féin has previously recommended that its elected representatives should accept an "industrial wage" and donate the rest of their salaries to its coffers.
However, figures from the Electoral Commission show a vast difference in the amounts handed over by individual representatives.
For example, MEP Martina Anderson donated £34,755 in the last six months of 2017, while the party's deputy leader, Michelle O'Neill, handed over just £3,300.
More than half of the party's MLAs made no recorded donations at all during the same period.
Sinn Féin told the paper its elected representatives donate "different amounts and different times of the year".
The difficulty of celebrating the 20th anniversary of the Good Friday Agreement - while the Northern Ireland Assembly remains in limbo - is causing a few headaches.
The Belfast Telegraph leads with speculation that Bill and Hillary Clinton may fly to Belfast on the anniversary to help launch a new education campaign.
It says the campaign will focus on tackling underachievement at schools in "deprived Protestant areas".
Inside, the paper says Catholic schools have "reasserted their academic dominance" by taking every one of the top 10 places in terms of A Level results.
It has compiled its own list of post-primary school league tables, using figures from the Department of Education.
The highest ranking non-Catholic school was Wallace High in Lisburn, which came in at 11th place.
'Madly wrong'
The Belfast Telegraph also carries a startling claim that some parents are plying their children with painkillers and alcohol before taking them to be shot by paramilitaries "by arrangement".
The comments are made by Northern Ireland's Chief Constable George Hamilton in an interview with The Guardian.
He tells the paper it is "not unknown" for parents to sedate young people to try and reduce the impact of the shooting, or to try and "negotiate less severe beatings".
"There is something madly wrong with society whenever parents even countenance doing that with their own children," Mr Hamilton says.