Rugby rape trial: Harrison 'not acting to protect friends'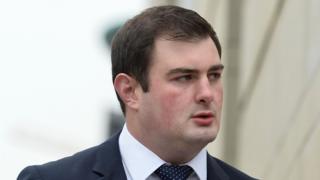 A friend of two Ulster rugby players accused of rape has denied agreeing to "look after" the alleged victim.
Rory Harrison, 25, of Manse Road, Belfast, denies perverting the course of justice and withholding information in the case.
Under cross-examination, Mr Harrison rejected suggestions he took the woman home on the night in question to protect his friends.
A prosecution barrister asked him if he was told "to go and look after her".
"No, I was not," replied Mr Harrison.
'Loyalty to friends'
Paddy Jackson and fellow rugby player Stuart Olding deny raping the same woman in Mr Jackson's house, in the early hours of 28 June 2016.
On Monday, evidence called by the defence in the long-running case concluded.
The jury was told that the trial would now move to the next stage.
There will be no sitting of the trial in front of the jury on Tuesday. It will resume on Wednesday.
Concluding his cross-examination of Mr Harrison, the prosecution barrister put it to him: "Regrettably, however good an upbringing you have had, or good a family you have undoubtedly come from, sadly you have put loyalty to your friends first."
Mr Harrison replied: "No. I disagree with you."
Mr Harrison was treated initially as a witness rather than a suspect in the case. He gave a police statement two days after the alleged attack.
Earlier in Monday's hearing, he was asked if he heard the woman say upstairs in Mr Jackson's house: "How often must a girl say 'no' before it sinks in?"
He said he did not hear her say that.
The court also heard how Mr Harrison had memory gaps about parts of the night, possibly due to his level of intoxication.
He could not recall much about the alleged victim's physical appearance, but could remember her "staring" at Mr Jackson.
He could also remember her following Mr Jackson upstairs, the court heard.
He later shared a taxi home with the woman and remembers her being upset.
Having initially thought she may have been rejected by Mr Jackson, and that is why she was upset, he told the court his view changed to thinking she had done something she regretted.
The next day he received a message from the alleged victim saying that the sexual activity the previous night had not been consensual.
"My initial reaction was shock but, as I have said before, based on the character of Patrick, I did not think it was true," he said.
'Code'
Earlier in the trial, the court heard from the taxi driver who drove him home on the night in question.
The taxi-driver said he remembered him taking a phone-call from a friend during the journey and it sounded as if he was speaking to him in code.
When this was put to Mr Harrison, he said: "I was surprised because I don't know any code. None of the words I said sounded like code to me."
In his re-examination, his defence barrister asked him if he had "lied at any stage".
Mr Harrison answered: "No, I did not."
In total, four men have been charged in connection with the case.
Mr Jackson, 26, from Belfast's Oakleigh Park, is charged with one count of rape and one count of sexual assault. He denies the charges.
Mr Olding, 25, from Ardenlee Street, Belfast, is also charged with rape. He too denies the charge.
Blane McIlroy, 26, of Royal Lodge Road, Belfast, is charged with one count of exposure. He denies the charge.