Floral Hall: £5m proposal to revive iconic venue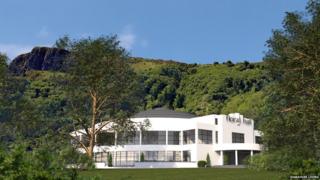 A property company has said it would like to buy Belfast's Floral Hall, a derelict entertainment venue inside the grounds of the city's zoo.
Belfast City Council, which owns the building, said although there have been no formal discussions, it is "open to receiving proposals".
Liverpool-based Signature Living said the hall should be restored and re-opened as "an entertainment, conference and wedding venue".
The project cost is estimated at £5m.
The Floral Hall was built in the 1930s and was used as a dance hall, then concert venue, before it closed in the 1970s.
Some of the great bands of the past who played there include the Small Faces and Pink Floyd, and rock-and-roll stars Gene Vincent as well as Bill Haley and his Comets.
The circular art deco building overlooks Belfast Lough from the foothills of Cave Hill.
In 1973, it was surrounded by barbed wire and armed soldiers when it was used as the designated counting centre for the Northern Ireland referendum on the Irish border.
Signature Living's owner, Lawrence Kenwright, described the building as "a gem" of Belfast social and cultural history.
Speaking at a property conference in France, he said: "I am publicly stating my desire to acquire the Floral Hall from Belfast City Council and bring it back to use for future generations to enjoy."
The council said any sale "would be strictly subject to due process."
Signature Living is currently redeveloping the Scottish Mutual Building in Belfast as a George Best-themed hotel.
It has also bought the former Crumlin Road courthouse in the north of the city.