Karen Bradley 'minded' to reduce MLA pay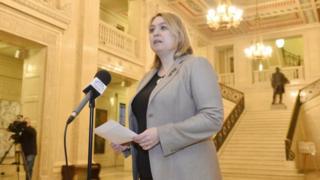 The secretary of state has said she "is minded" to reduce MLA pay, in the wake of the collapse of the Stormont talks.
Speaking in the House of Commons, Karen Bradley said the "time is right" to address "concern about MLA pay in the absence of a functioning assembly".
Last December, former assembly Chief Executive Trevor Reaney recommended a cut of 27.5%.
Mrs Bradley said she wants to hear from Northern Ireland's political parties before making a final decision.
Northern Ireland has been without a functioning executive since January 2017.
Subsequent talks have failed to restore the power-sharing executive.
In December, an independent report recommended cutting the 90 MLAs' salaries by £13,612 in the absence of a sitting assembly at Stormont.
The report by Mr Reaney urged the Northern Ireland Office (NIO) to introduce the cut in two stages, so as not to impact on assembly members' "personal circumstances".
Last month, talks between the DUP and Sinn Fein collapsed amid unionist resistance to draft proposals for future Irish language legislation.
Since then, senior DUP figures have described the prospects for restoring the assembly in the coming weeks or months as bleak.
The Reaney report proposed cutting the MLA salary from £49,500 to £35,888, with an immediate cut of £7,425 followed by a further reduction of £6,187 after three months.
Mr Reaney also proposed cutting MLAs' staff allowance from £50,000 to £37,500 if power sharing had not been restored by the end of this month.
However, in a recent appearance before the Westminster Northern Ireland Affairs Committee, Mrs Bradley indicated MLAs' staff should not be punished or penalised for the inability of the parties to form an Executive.
Fudged a hard decision
Mrs Bradley seems to have changed her opinion and in the House of Commons on Monday she said she will seek to introduce legislation that will allow her to vary MLA salaries.
"These measures, which I take reluctantly, are necessary in the absence of a functioning Executive and assembly".
Bumper Graham from the trade union NIPSA believes the secretary of state has "fudged" having to make a hard decision.
"MLAs have been on full pay for 15 months and any ordinary worker who was not carrying out their full duties would be dismissed by now," he said.
"MLAs can't be treated by some feather-bedded group, over and above other workers."
Mr Graham suggested that if the politicians cannot restore the assembly by the anniversary of the Good Friday Agreement on 10 April, they should have their pay suspended entirely.
DUP deputy leader Nigel Dodds welcomed Mrs Bradley's comments, saying she had "once again made clear the government's support for Northern Ireland's position with the United Kingdom".
In a statement, Sinn Féin MLA Conor Murphy accused the secretary of state of having "no plan" to restore political institutions on the basis of equality.
"Instead the British government remains wedded to the DUP's blockade on rights, language rights, marriage rights and the right to a coroner's inquest which are enjoyed by citizens everywhere else in these islands," he said.
The SDLP's deputy leader, Nichola Mallon called the secretary of state's words "vague" and said there was "little detail on what next".