County Tyrone: Orange hall attacked in hate crime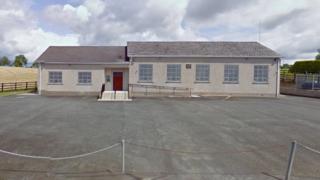 Paint has been thrown at an Orange Hall in County Tyrone in what police have described as a "hate crime".
The incident happened on the Aghintober Road near Aughnacloy sometime between 18:00 GMT on Saturday and 11:00 on Sunday.
A tin of paint was thrown at the front of Aughintober Orange Hall causing damage to the steps and entrance of the building.
Police are appealing for information.
The leader of the DUP, Arlene Foster, condemned the attack as "disgraceful".
"It is a crime motivated by sectarianism and, unfortunately, is one of many such attacks sustained against Orange Halls right across Northern Ireland.
"When we hear demands for respect then this must also be extended to the Orange Institution, its properties and parades," she said.