NI weekly papers: Falling angels and being sold a pup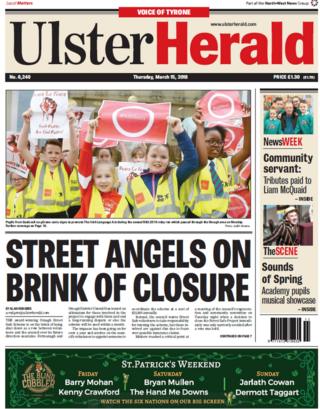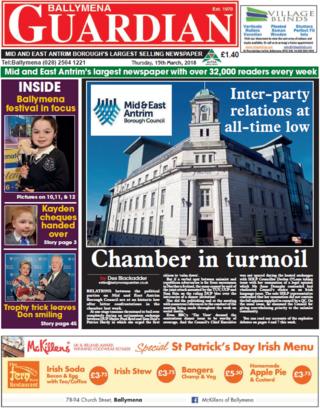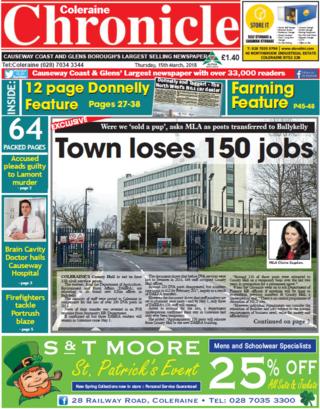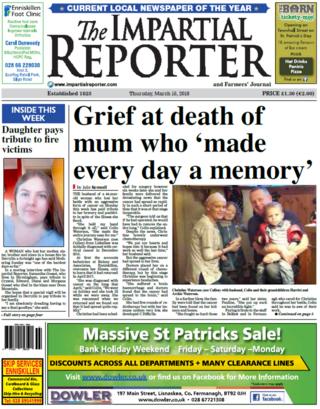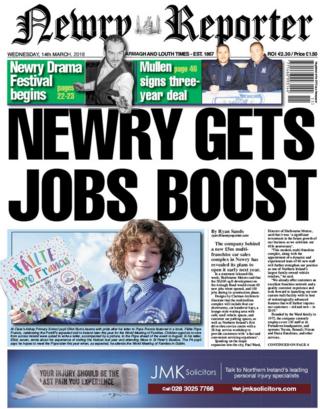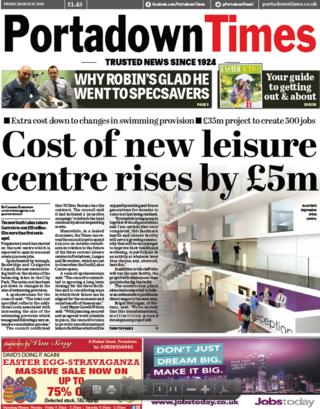 A threat to "angels", anger over the "shuffling" of civil service jobs and a bitter row over the Irish language make headlines in this week's local papers.
County Tyrone could be about to lose a few guardian angels, as an award-winning voluntary project is on the brink of closure, according to the Ulster Herald.
The Omagh Street Safe scheme was set up in 2013, after the deaths of two young men in so-called one-punch attacks in the town.
Volunteers known as "street angels" patrol Omagh town centre at weekends, providing help and support to anyone who gets in trouble on a night out.
However, the paper says the future of of the scheme is now under threat because of a dispute with Fermanagh and Omagh District Council.
The dispute centres on who takes overall responsibility for running the scheme, after volunteers expressed concern they could be liable for insurance claims without the council's support.
Inside, the Herald reports on a "groundbreaking" Irish language event at Omagh's Royal British Legion.
The event was organised by RAF cadets, who told the paper they hoped to "break down barriers" and show that the language could be appreciated by "all communities".
'Calm down!'
The cross-community cultural appreciation does not translate to County Antrim, however, where councillors clashed over plans to mark Irish Language Week.
This week's Ballymena Guardian reports that inter-party relations at Mid and East Antrim Council are at an "all-time low" after two bitter rows in the chamber.
As well as the language dispute, there was also a heated exchange after the council was invited to contribute to a DUP-organised business dinner, at a cost £1,500 per table.
Sinn Féin's Patrice Hardy told the council's DUP mayor to "calm down" as he repeatedly banged his gavel and called for order at a "stormy meeting".
Speaking during the Irish language debate, the SDLP's Declan O'Loan claimed council spending was "extremely one-sided in its decision making" and that spending was "very much steered" towards the unionist community.
His complaint was supported by Ms Hardy, who called for the council's solicitor to attend all future monthly meetings.
However, the paper says ratepayers could be facing a bill of £7,000 after the council sought legal advice over the Irish Language Week dispute.
Elsewhere in the town, it's "game over" for gamblers as the PSNI cracks down on suspected illegal gaming machines.
The Guardian reports that officers seized 96 machines from a commercial building on Wakehurst Road last week, along with a "substantial sum of cash".
Sold a pup?
This week's Coleraine Chronicle leads with news that the town is set to lose 150 jobs as civil servant posts are relocated.
Those affected work for Stormont's Department of Agriculture, Environment and Rural Affairs, which is moving to a new £20m headquarters in Ballykelly.
Former justice minister Claire Sugden complains that politicians like her, who supported Stormont's decentralisation policy, have been "sold a pup".
"It suggests that tax payers have built a very expensive new facility in Ballykelly to reshuffle jobs within the same area rather then bringing 'new' post from Belfast as promised," she says.
The Chronicle also reports on an "astonishing" medical case in which a pensioner was found to have a "9cm air pocket" in his brain.
It says the case was so rare it featured in national newspapers and the British Medical Journal.
Coleraine medic Dr Finley Brown tells the paper: "Its likely that when he was sniffing or coughing air was being pushed up into his head and it couldn't get out again."
He also commends his fellow staff at the Causeway Hospital for their swift work in diagnosing and treating "such an unusual presentation".
Fire grief
The Impartial Reporter has an exclusive interview with a grief-stricken woman who lost four members of her family in a County Fermanagh house fire last month.
Samantha Gosset's mother, brother, sister and infant niece were murdered in the blaze at their rented home outside Derrylin on 27 February.
Ms Gosset, who lives in Birmingham, says her family is very grateful for the support they have received from local residents, including financial help with funeral arrangements.
"We can't thank the people of County Fermanagh enough, we now feel like part of the community," she says.
The paper also features the dramatic aftermath of a crash in Enniskillen, which left a car hanging precariously from a perimeter fence overlooking the River Erne.
The 52-year-old woman who was driving the car told a court she suffered a blackout caused by epilepsy, but pleaded guilty to dangerous driving.
Jobs, jobs, jobs
The Newry Reporter leads with the announcement of 160 new jobs for the city, with the construction of a £5m car showroom.
Shelbourne Motors says the project will support 100 jobs during the building phase, and a further 60 staff will be hired to work in the showroom.
Meanwhile, a Newry-born entrepreneur who has been credited with creating more than 5,000 jobs in his native city, is stepping away from his best known development.
Gerard O'Hare and his firm, Parker Green International, opened the Quays Shopping Centre in 1999.
The 60-year-old businessman has sold off his interest in the Quays, just weeks after opening a £20m extension to the retail complex.
The Newry Reporter says his shares were bought by an "undisclosed purchaser".
In County Armagh, ratepayers are splashing out more than they expected on a new leisure centre, as an extra £5m has been added to the bill.
The South Lakes Leisure Centre is due to open in Craigavon in 2020 and preparatory work is already under way at the site.
The multi-million pound price hike is due to "changes in the size of swimming provision," according to the Portadown Times.
The council says it is building a bigger pool to meet demand from residents and swimming clubs.
The entire cost of the construction project, on the shores of the balancing lakes in City Park, is now expected to be £35m.
In neighbouring Portadown, residents have complained of a "rat infestation" on a railway embankment close to their homes.
The paper reports that Translink has agreed to tackle the rats, and cut back overgrown briars and trees that have been encroaching on the houses.
The firm has been praised for its "positive, proactive" response to the complaints.