Dog owner 'heartbroken' by hanging claim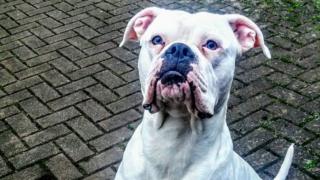 A dog owner has spoken of his distress after police investigated claims he hanged his pet.
A video posted on social media appeared to show a dog being hanged outside a house in north Belfast.
The original story emerged on Sunday, when a video was posted on Facebook.
At the time, police described the dog's treatment as a "horrible crime" but on Monday they clarified they had visited the owner and the dog was not abused.
The 21-second video, taken from behind railings, is thought to have been captured by a passer-by.
The man who owns the dog, who wishes only to be known by his first name Andre, contacted the police on Monday morning when a friend told him the police were looking for him.
"Because I have nothing to hide the first thing I did this morning was contact the police," he said.
A police officer along with an animal welfare officer called to his home, and after showing them the dog they informed him there would be no investigation.
Andre is very disappointed at how this issue has been handled.
He strongly believes that if the woman thought he was abusing his dog she should've called the police "then and there" instead of uploading a video to social media.
Heartbroken at social media storm
He said a group of people came to his home on Sunday evening as they had seen the video on Facebook.
"I showed my dog to the group, and I was able to show them videos of me training my dog, and they then apologised to me.
"I do wonder, if I didn't have my dog with me I might not have been able to explain the situation," he said.
Andre got Buster when he was a four-month old pup and says he has a passion for the American bulldog breed.
"I got my dog as a companion. Training my dog introduces me to new friends and a new social network.
"Having a dog gives me a purpose - it improves my mental health," he added.
"Buster is my best friend. It breaks my heart even being accused of abusing him."
'I have nothing to hide'
In a Facebook post on Sunday, PSNI North Belfast said the video was "hard to watch" and they appealed for witnesses to come forward.
However, PSNI Ch Insp Kelly Moore said police visited the dog's owner on Monday morning, along with animal welfare staff from Belfast City Council.
"I can confirm after the visit that the dog is in good health and no abuse had taken place. Rather the dog was being trained and was playing with a toy.
"We are satisfied that no crime has taken place and that the animal is well looked after," she added.