Priest 'told to leave parish' in letter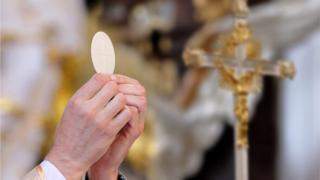 A priest in County Down has said he has received a threat telling him to leave his parish.
Fr Charles Byrne made the revelations to parishioners during Sunday Mass in the Clonduff parish in Hilltown.
Fr Byrne did not make it clear exactly what was in the letter he said he had received, but the message was described as "abusive".
He said it referred to the recent sexual abuse scandal in the Dromore diocese.
Fr Byrne also told parishioners of a post made on social media referencing himself.
'Defamation'
He described it as "very hurtful", a "false statement" and a "defamation of character".
He said his solicitor was dealing with the issue and that the threats had been reported to the police.
Fr Byrne received two rounds of applause from the congregation as he spoke to them.
Fr Malachy Finnegan, who died in 2002, has been accused of sexual abuse by 12 people.
Earlier this month, the Bishop of Dromore resigned over his handling of the scandal.
Support
Sean Faloon from Hilltown was first abused as an altar boy from the age of 10 by Fr Malachy Finnegan. He said he was sorry that Fr Byrne received the letter.
"I am fully against this type of behaviour," he said.
"I believe all matters should be dealt with in a civilised and legal manner.
"Any type of aggressive or violent behaviour is not in any way welcome.
I do believe Father Byrne can relax with the good people of Hilltown around him," he added.