Police probe after man is found unconscious in west Belfast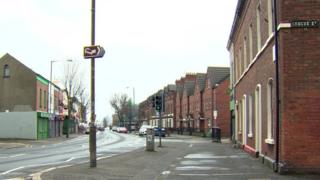 A man in his 30s has been taken to hospital after being found unconscious in the Springfield Road area of west Belfast.
Police said the man was discovered with a serious head injury and leg wounds near the road's junction with Crocus Street at about 06:00 GMT on Sunday.
They are investigating whether he was knocked down by a car.
Police said the man had been taken to hospital for treatment to his injuries and have appealed for information.
"These wounds would be consistent with being knocked down by a car and that is one line of enquiry police are following," a PSNI spokesperson said.