Post-Brexit Irish border solution 'vital' says IoD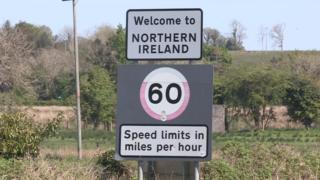 Finding a solution to the issue of the post-Brexit Irish border is "absolutely vital", the head of the Institute of Directors in the UK has said.
Belfast-born Stephen Martin also said the Northern Ireland peace process must be protected in the Brexit talks.
"As someone who has grown up in Northern Ireland during the Troubles, we do not want to see a return to the dark days," he said.
He was speaking on BBC Radio Ulster's Inside Business programme.
The future operation of the Irish border has been a major sticking point in the Brexit negotiations between the UK and the EU.
Both sides have said they want to avoid a so-called hard border - the installation of physical barriers and customs checkpoints - between Northern Ireland and the Republic of Ireland.
'Good Friday Agreement'
However, they have yet to agree on how this can be achieved as the UK intends to leave the single market and the customs union when it leaves the EU.
Mr Martin said Northern Ireland will have the UK's only land border with the EU after Brexit and it was "absolutely vital that we get it right".
"We want to make sure that the Good Friday Agreement is honoured," he told Inside Business.
"We want to make sure that there is not a hard border because that doesn't benefit anybody - Ireland doesn't want it, Northern Ireland doesn't want it - so we really have to look at innovative solutions."
'Escape the Troubles'
The Institute of Directors (IoD) supports and represents the interests of business leaders across the UK.
Mr Martin, who has 30 years of experience working in the construction industry, was appointed director general of the IoD just over a year ago.
He was born in Belfast in 1966 but when he was 10 years old, his father moved the family to England "to escape the Troubles," according to his IoD biography.
However, three years later, Mr Martin's father died in a work-related accident and the family moved back to Belfast.
The IoD director has a degree in quantity surveying from Ulster University and has been chief executive of two construction firms.
Stephen Martin's interview will be broadcast as part of Inside Business on BBC Radio Ulster at 13:30 GMT on Sunday, 10 March.