International Women's Day March takes place in Belfast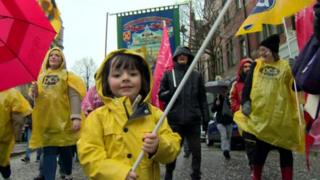 A women's march and rally has taken place in Belfast city centre to mark International Women's Day.
People around the world mark the day with marches and rallies against gender inequality and sexual discrimination.
International Women's Day is held on 8 March but the Belfast event is staged at the weekend every year, organised by number of women's rights activists.
The participants met at 11:00 GMT at Writer's Square and walked to Belfast City Hall where speeches were made.
One of the organisers, Kellie Turtle from Reclaim the Agenda, told the BBC that Saturday's event was about putting a spotlight on women's rights.
'Huge resurgence'
"It's a celebration in terms of how far we've come in terms of women's equality but it's much more than that.
"It's also a rally where we will demand our rights," she said.
"There's so many outstanding issues for woman.
"Normally we use this event to put a spotlight on equality, but this year is different because we've had huge resurgence in the women's movement around issues like sexual harassment, the #metoo movement and the Repeal the Eighth movement around abortion rights.
"We've been marking the centenary of women first getting the vote here," she added.
"We are celebrating achievements and equality but making sure people know quality hasn't been fully achieved.
She said the weather had not dampened spirits and they were pleased with the turnout.
"No one likes getting too wet but it's not the first year its been like this.
"People come together in sisterhood and support each other".
"Our theme for this year is no women left behind and it shows how women experience inequality in different ways.
"Some are doing well, others have many more barriers to face, because of other aspects of their identity - be it disability, race, sexual orientation.
"We need to make sure all women get equality at the same rate."