Queen's University students won't be compensated over strike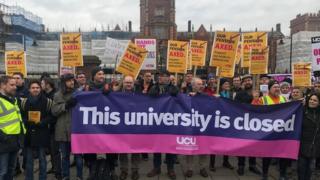 Queen's University Belfast will not compensate students whose courses have been disrupted by strike action.
That is according to an email from the acting vice-chancellor to all students.
A number of classes and seminars have been cancelled due to industrial action by members of the University and College Union (UCU).
Members of the union at over 60 universities across the UK are taking the action in a dispute over changes to staff pensions.
In his email to students, Professor James McElnay said it was an extremely difficult time for those affected by the strike.
"Many of you have asked if you can receive individual refunds of fees for services not delivered during the strike," he said.
"As the university will make every reasonable effort to mitigate the impact of strike action, and ensure that students are not disadvantaged academically, no form of reduction in fees or compensation is being considered.
"Whilst we recognise and respect the right of our staff to take industrial action, those staff who are participating in strike action will have pay withheld.
"All salary deductions will be ring-fenced and used to support student activities at the university."
Professor McElnay said that the university would try to ensure that no student would be disadvantaged by the strike when it came to end of year exams and assessments.
However, he wrote that Queen's was "not in a position to resolve this dispute on its own, or with its own staff".
That has been rejected by members of the UCU at the university in an open letter.
"We made a genuine attempt to provide an avenue for resolving our dispute locally, in order to prevent industrial action," they said.
"We even suggested the possibility of releasing a joint statement, thus making Queen's a positive example for constructive staff-management relations.
"We did all this with the explicit aim of avoiding the detrimental consequences that unavoidably come with such a public dispute."
The union said that the acting vice-chancellor should now publicly call on Universities UK to find a fair solution to the pensions dispute.
The current period of industrial action at Queen's and Ulster University is due to conclude on Friday 16 March.
However, the UCU has warned that more strike action could result if the situation is not resolved.