James Hughes death: West Belfast man to stand trial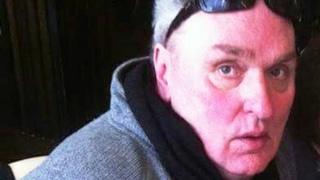 A west Belfast man, accused of murdering his neighbour, is to stand trial later this year.
James Gerard Hughes body was found in a flat on the 14th floor of Divis Tower in November 2016. He was 62.
James Brendan Patrick Devine, 43, formerly of Divis Tower, appeared in court on Friday to be formally arraigned on two charges.
He pleaded not guilty to murdering Mr Hughes on an unknown date between 4 and 7 November 2016.
Mr Devine also denied a second charge of stealing £6,080 from Mr Hughes.
Following a police search, officers investigating his death learned that over £6,000 in cash was missing from his flat.
'Mental capacity'
A defence lawyer told the judge that two psychiatric reports indicated that Mr Devine had been "suffering from chronic paranoid schizophrenia since 2006''.
He added: "Mr Devine does not take issue with the fact that he caused the death of Mr Hughes.
"The issue now is about his mental capacity at the time.''
He told the court the issue around Mr Devine's fitness to plead had now been resolved.
"Nobody has really trodden the issue around diminished responsibility and we have put that in motion and a report will be completed within four weeks by Dr Maria O'Kane," he added.
Diminished responsibility
However, the judge said given that Dr O'Kane had already written a previous report on the defendant's fitness to plead he would require that the report be completed within two weeks.
The prosecution lawyer said he would direct a forensic psychiatrist instructed on behalf of the Crown to start work immediately on her report on the issue of diminished responsibility.
The judge remanded Mr Devine back into custody to a psychiatric unit in south Belfast.
His trial date was set for June this year and is expected to last a week.