UK wide powers must take account of border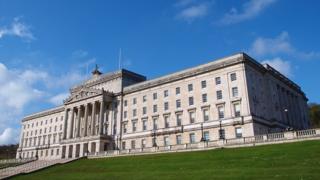 Plans for UK wide laws in areas like agriculture and environment will have to take account of the border issue, the Cabinet Office has said.
The government has published an assessment of areas in which UK-wide legislation may be needed after Brexit.
Most of them are in the fields of agriculture and environment which are devolved responsibilities.
They include proposals for food labelling and the regulation of chemicals and pesticides.
The analysis has been published by the Cabinet Office.
The paper said plans would also be subject to the need to find "practical solutions that recognise the unique economic, social and political context of the land border between Northern Ireland and Ireland; frameworks will adhere to the Belfast Agreement".
Protect UK internal market
Minister David Lidington said most of the powers currently covered by EU legislation would return to the devolved administrations.
But he said there were 24 areas out of 153 that would probably need a UK legislative framework.
The Cabinet Office said the government felt strongly that it should have the power to legislate to "protect the UK internal market".
On food labelling it said common rules would be needed to ensure manufacturers in one part of the UK could sell produce to customers in another without additional red tape and cost.
And on chemicals it said divergent regulations within the UK could restrict sales, push up prices and complicate future trade deals.
Liaising with civil servants
The UK government is talking to politicians in Scotland and Wales about the issue.
In Northern Ireland they're liaising with civil servants.
Other areas where central government believes they may to legislate include animal traceability, agricultural support, fishing quotas and waste.
Both the Scottish and Welsh governments have produced plans for continuity bills as a fallback option to deal with legal uncertainties caused by Brexit if they cannot agree to consent to the UK government's legislation.