'Direct rule budget' and trial evidence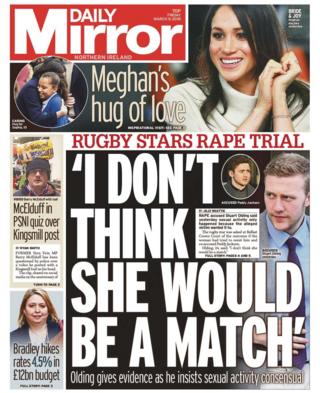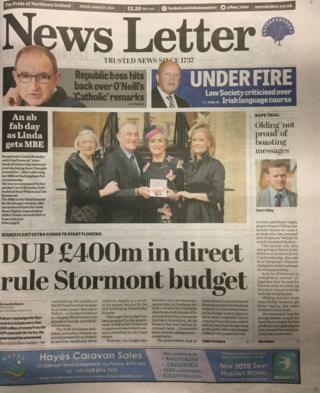 Evidence given at court by one of two Ulster rugby stars accused of raping the same woman makes the front pages of three of Northern Ireland's daily papers.
On Thursday, Stuart Olding told the court he was very embarrassed about Whatsapp messages he had sent friends boasting about sexual activity with a young woman.
Mr Olding denies one charge of rape.
He says all sexual activity with the woman was consensual.
While giving evidence, the 24-year-old from Ardenlee Street in Belfast, said: "I'm certainly not proud of talking like that but I did it, I have done it and I shouldn't have."
Mr Olding's Ulster team mate, Paddy Jackson, 26, from Belfast's Oakleigh Park, is charged with one count of rape and one count of sexual assault. He denies the charges.
Money, money, money
Elsewhere political funding for budgets and inquests makes headlines.
The front page of the News Letter reads "DUP £400M in direct rule Stormont budget".
On Thursday, Northern Ireland Secretary Karen Bradley published a draft document outlining the budget allocation for Northern Ireland.
The move follows the DUP and Sinn Fein's inability to resolve a year-long stalemate at Stormont.
The budget will include £410m of the £1bn package negotiated by the DUP in return for backing the Conservatives after June's general election.
Karen Bradley said the allocation from the confidence and supply money would include £80m for health and education pressures.
'Embattled leader'
The Irish News reports that a legal ruling over a decision to block legacy inquest funds, requested by the lord chief justice, is a "stinging rebuke for embattled leader".
It comes after a judge, Sir Paul Girvan, ruled that former First Minister Arlene Foster's actions were unlawful and flawed.
The paper reports that the legal judgement is the "latest setback" which has "put Mrs Foster... under fresh pressure".
Sir Paul said it was unlikely money would have been released if discussed by the executive, due to failings in the paper supplied by the Justice Department.
He added that an obligation on the state to investigate deaths during the conflict remained, whether or not devolved government was restored.
Former MP interviewed by PSNI
The Daily Mirror reports that former Sinn Fein MP, Barry McElduff, has been questioned over a video he posted online showing him with a loaf of Kingsmill bread on his head.
The footage caused controversy as it was shared on the 42nd anniversary of the Kingsmills massacre, in which 10 Protestant workmen were shot dead.
Mr McElduff later removed the video and apologised, stating he had not meant to cause offence.
On Thursday, the PSNI confirmed it had interviewed a 51-year-old in Omagh "about a video uploaded to social media on 6 January".
It said the man attended Omagh police station voluntarily on Thursday.
"A report will now be prepared for the Public Prosecution Service," said Det Ch Supt Tim Mairs.
Food for thought
Two of Northern Ireland's leading food production companies have been named and shamed by the government for failing to pay some of their workers the legal minimum wage.
Moy Park and Tayto, along with six other firms based in Northern Ireland, feature on the UK wide list.
Poultry firm Moy Park, which is based in Craigavon, failed to pay £33,547 to 338 workers.
A spokesperson for the firm said: "As soon as this isolated example of underpayment was identified, we apologised to those affected and ensured reimbursement."
Meanwhile, crisp company Tayto, based in Tandragee, was due to pay £2,236.14 to 50 workers.
The firm said it was made aware of a "potential small inadvertent breach" and made sure the amount was paid to staff within the month.
Arson attack
A restorative justice centre has been the target of an arson attack on the Falls Road in west Belfast, reports the Irish News.
It is understood that a man entered the Conflict Resolution Services Ireland (CRSI) building, shouted at staff, and set fire to a petrol container.
The building's door was damaged during the blaze, but no one was hurt.
Det Insp Stephen Harvey said: "Early indications are that a petrol-bomb type device has been through at the doorway of the building."
Football fallout
The News Letter reports that the Republic of Ireland football manager has criticised comments made by his Northern Ireland counterpart.
Martin O'Neill said he took issue with the "unexpected nature" of Michael O'Neill's comments about the Football Association of Ireland (FAI).
Earlier this week, the Northern Ireland manager claimed the FAI "only every approach one type of player - Catholic".
Martin O'Neill added that "bringing religion into it - it's very disappointing".