Kathleen Thompson inquest told she was shot 'on her knees'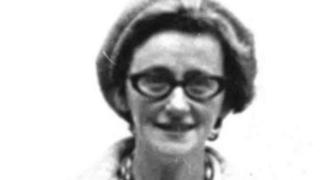 A mother of six was likely to have been on her knees when she was shot dead in the back garden of her Londonderry home in 1971, an inquest has been told.
Kathleen Thompson died in disputed circumstances during an Army raid in the Creggan estate and her death is the subject of a fresh inquest.
Pathologist Prof Jack Crane told the coroner that Mrs Thompson was hit by a bullet fired from an elevated position.
He said he believed she was in a kneeling position at the time.
'Direct hit'
Members of the Army's Royal Green Jackets Regiment were carrying out the search and arrest operation close to Mrs Thompson's home on 6 November 1971 - the night she was shot dead.
Earlier this week, a former member of the regiment, known to the inquest as Soldier D, accepted the possibility that she may have been killed by one of two shots he fired from his SLR rifle.
Soldier D said he saw a gunman in the area and aimed and shot at the target after he personally had come under fire.
On Thursday, the fourth day of the inquest, Prof Crane said Mrs Thompson had sustained a direct hit from a high-velocity bullet and died from internal injuries this has caused.
The pathologist explained that the bullet struck her left collar bone and then travelled through her body, fracturing some of her left ribs, causing extensive lacerations to her lungs and damaging her eighth right rib before exiting from the right side of her body.
'Not a ricochet'
He said her death would not have been instantaneous and it was possible that she screamed after she had been shot.
"Given the nature of the entrance wound in this case it would suggest that the bullet was probably undamaged, was not a ricochet nor had it struck an intermediate target after firing", he told the coroner.
Prof Crane added it was not known if the bullet had fragmented inside Mrs Thompson's body because "there is no bullet," nor was Mrs Thompson's body X-rayed for bullet fragments.
"The injury was consistent with a high-velocity bullet. It is less likely, but slightly possible, that a low-velocity bullet could have caused her injury", he added.
Another expert witness, Home Office forensic pathologist Dr Russell Delaney, also said he too believed it was more likely that Mrs Thompson had been struck by a high-velocity projectile.
'Capable of movement'
Having examined all available documentation, Dr Delaney agreed it was a direct hit rather than a ricochet.
He added that her death was not instant and Mrs Thompson might have been capable of some movement after she was shot.
Dr Delaney said for that reason he could not say what position she was in when she was shot.
The inquest continues.