Barry McElduff questioned over Kingsmill video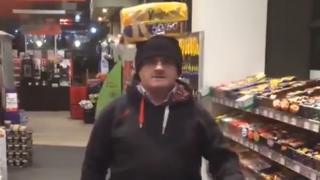 Sinn Féin's Barry McElduff has been interviewed by police about a video he posted of himself in a shop with a loaf of Kingsmill bread on his head.
The video was posted on social media on the 42nd anniversary of the Kingsmills murders, in which 10 Protestant workmen were shot dead by the IRA.
Police said they had interviewed a 51-year-old man "about a video uploaded to social media on 6 January".
They said the man attended Omagh police station voluntarily on Thursday.
"A report will now be prepared for the Public Prosecution Service," Det Ch Supt Tim Mairs said.
In a statement, Mr McElduff's solicitor said: "Barry McElduff attended Omagh PSNI station today upon a voluntary basis at the request of police. As per his apology of 6 January 2018 to the victims of the Kingsmill atrocity, Mr McElduff reiterated to police that he in no way intended to cause offence or hurt to anyone.
"He did not realise that his social media post coincided with the Kingsmills anniversary, rather the post was spontaneous and not pre-meditated.
"Barry McElduff has cooperated fully with his party Sinn Féin, and police, in their investigations. He has resigned his seat for West Tyrone, and has no further comment to make until investigations are finalised."
Mr McElduff said at the time he never intended to cause offence with his video, and that its publication on the anniversary of the Kingsmills atrocity was "just a coincidence".
However, he was criticised by relatives of the murdered men and by the sole survivor of the attack, Alan Black.
Mr McElduff later resigned as MP for West Tyrone.