Coleraine murder: Window cleaner pleads guilty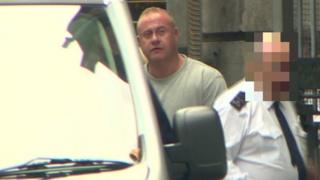 A County Down window cleaner has admitted murdering a man 15 months ago.
Mark Anthony Lamont, 54, died after an attack in Coleraine, County Londonderry.
Richard Hugh Jack Dalzell, of Whinpark in Newtownards, was due to go on trial on Thursday accused of murdering Mr Lamont in October 2016.
However, after an application from his senior counsel, Dalzell was re-arraigned on the murder charge and pleaded guilty.
Mr Justice Colton said he would impose a life sentence and set a tariff hearing for next month.
Dalzell was remanded back into custody to Maghaberry prison and relatives of his victim wept as they left court.
No details were given in court today about the circumstances surrounding the murder however at a previous hearing a prosecution lawyer outlined the series of events.
The court was told the defendant and a female friend were in the Forge Bar in Coleraine on the evening of 25 September, 2016 where Mark Lamont and two male friends were also present.
Press-up challenge
He said there had been a "bad atmosphere in the bar'' that evening.
He added: "All parties had consumed significant quantities of alcohol and the defendant took up a challenge to do a press-up competition with Mr Lamont.''
The court heard that this resulted in a number of people advising the defendant and his female companion that it would defuse the situation if they left the Forge Bar.
The couple left and returned to a nearby house in Coleraine.
Mark Lamont and his two male friends turned up at the house with their faces obscured by hooded tops and there was a stand off with the defendant.
"They were told to leave by the defendant's female friend and the three left the house and went outside," the prosecution lawyer said.
Substantial force
But Mr Lamont later returned to the house and "became involved in a confrontation with Mr Dalzell''.
A number of neighbours witnessed the confrontation and saw Mr Lamont "on the ground and the defendant repeatedly jumping up and down on the deceased's head''.
Mr Lamont was taken to hospital but died on October 11, 2016 from, his injuries.
A post mortem report said that "substantial force would have been required to cause the level of brain injuries Mr Lamont suffered, including kicking while lying on the ground.''
It was also alleged Dalzell shouted to witnesses at the scene: "I'm in the UDA. You saw nothing.''
At police interview, Dalzell told detectives that "this was a fight he was challenged to and he won''.