Rugby rape trial: Stuart Olding 'not proud' of messages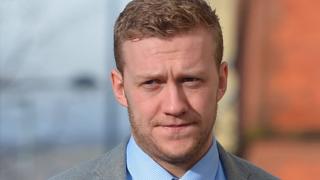 Ulster rugby player Stuart Olding has told his rape trial he was very embarrassed about Whatsapp messages he sent to friends boasting about sexual activity with a young woman.
Giving evidence for the first time, he said he was not proud of the messages.
He said he was not guilty of rape, and said the sexual activity with the woman was consensual.
Of the messages sent to his friends the next day, he said: "I feel very embarrassed sitting here reading them.
"I'm certainly not proud of talking like that but I did it, I have done it and I shouldn't have."
The messages used slang sexual terms.
"Immature boasting"
One of them stated: "We are all top shaggers."
In court on Thursday, Mr Olding said: "It was just immature boasting to my friends."
He and fellow rugby player Paddy Jackson are accused of raping the same 19-year-old woman in Mr Jackson's house, in the early hours of 28 June 2016.
Mr Olding insisted he did not "force" the woman who has accused him of rape to engage in sexual activity with him.
He said he saw no signs of distress in the bedroom.
He said the woman willingly performed oral sex on him.
He was asked by his defence barrister Frank O'Donoghue QC: "Did you force her?"
Mr Olding replied: "No, I didn't force her in any way."
Denial
"Either by what you said?" asked Mr O'Donoghue.
"No," replied Mr Olding.
"Or by what you did?" asked Mr O'Donoghue.
"No," replied Mr Olding.
After 27 days in the dock listening to the evidence, Mr Olding entered the witness box for the first time, just after 10.30 GMT.
Dressed in a grey jacket, blue shirt and dark tie, he was first asked about his background.
He went to school at Belfast Royal Academy where he captained the 1st XV rugby team. He made his Ulster debut at the age of 18.
He is now 24, but turns 25 at the weekend.
At the time of the alleged attack, he was aged 23. He had just returned from a tour with Ireland to South Africa where he played in two test matches.
First day home
He was given four weeks off at the end of the tour.
On his first day back at home in Belfast, he went out with Paddy Jackson, who he said was a "very close friend".
They were together with other friends, including Blane McIlroy and Rory Harrison.
They went to Mr McIlroy's house about 16.30 BST to watch football. The European Championship was on at the time.
They started drinking. Mr Olding said he consumed eight cans of beer. They then took a taxi to Cutter's Wharf bar.
He said he had "a few" pints of Guinness and two gin and tonics, as well as a burger and chips. They then went to Ollie's nightclub in the centre of Belfast.
He drank five vodka and lemonades and "a few" shots.
"Pretty drunk"
He said they left about 02.15 BST.
Asked about how drunk he was, he said: "Yes, I would be pretty drunk but still coherent."
He then got a taxi back to Paddy Jackson's house with a group of other people.
He said he had a tin of beer at the house. He said the mood was "happy, relaxed, fun, enjoyable".
At one stage, he said he and Blane McIlroy briefly took their trousers down while they were singing.
He said they did not take their underwear off, and said they were showing off their scars after both having knee surgery.
Later, he said he decided to go to sleep. He went upstairs and discovered Mr Jackson in bed with the young woman.
He said he was going to leave but the woman "held out her hand as an invitation to stay".
He said he only stayed in the bedroom for ten minutes, before leaving and going to sleep in another room.
Stuart Olding was later cross-examined by prosecution barrister QC Toby Hedworth.
He put it to Mr Olding: "When you entered that bedroom, that young woman looked at you and said to Paddy Jackson 'please, no, not him too'."
Mr Olding replied: "I don't remember any of that happening."
23 drinks
On the night in question, Mr Olding began drinking alcohol at about 16.30 BST. The court heard that he had 23 drinks over the next 12 hours.
Referring to the amount of alcohol Mr Olding had consumed, Mr Hedworth put it to him: "If you had that amount of drink there's a danger of disregarding the wishes or views of another person if they get in the way of what you want to achieve."
Mr Olding replied: "I wouldn't agree with that."
Mr Hedworth said: "Like Paddy Jackson, you were not interested in what she wanted to do or was prepared to do. She was just a vehicle for your own sexual desires that night."
Mr Olding answered: "I wouldn't put it that way."
'Complete truth'
Mr Hedworth put it to Mr Olding: "There comes a stage that night where you and Paddy Jackson are in his bedroom with that young woman.
"You are both professional rugby players. Your work is physically engaging, using not only your skill but also your strength in an attempt to overpower your opponent. What match is a 19-year-old woman going to be for the pair of you if she is going to try to resist?"
Mr Olding answered: "If she had resisted in any way or didn't want it to happen I wouldn't have had a problem with that, I wouldn't have carried on."
He insisted that the following day his friends Rory Harrison and Blane McIlroy did not tell him about a text from the alleged victim, in which she said the sexual activity had not been consensual.
Mr Olding told the court: "I'm telling you the complete truth. They didn't mention anything to do with it."
'Work of fiction'
Towards the end of more than three hours in the witness box, the prosecution barrister accused Mr Olding of telling "lies" and coming up with a "work of fiction".
The rugby player insisted he was telling the truth.
Mr Hedworth said to him: "Is the reality that you have been engaged with your friends in trying to cover up what happened on a drunken night where you, Paddy Jackson and Blane McIlroy, in a wholly different way, went way beyond what was acceptable?"
Mr Olding responded: "No, that's completely untrue. Everything that happened that night was consensual."
He has now finished giving evidence.
Accused deny the charges
Mr Jackson, 26, from Belfast's Oakleigh Park, is charged with one count of rape and one count of sexual assault. He denies the charges.
Mr Olding, 24, from Ardenlee Street, Belfast, is also charged with rape. He too denies the charge.
Two other men have also been charged in connection with the case.
Blane McIlroy, 26, of Royal Lodge Road, Belfast, is charged with one count of exposure. He denies the charge.
Rory Harrison, 25, of Manse Road, Belfast, is charged with perverting the course of justice and withholding information. He denies the charge.
The 11-person jury has been told by the judge to wait until they hear all of the evidence in the case before coming to any final conclusions.