Northern Ireland's export trade sees increase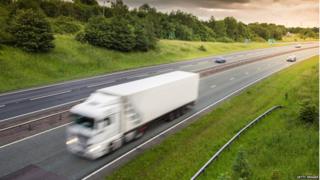 Northern Ireland's export trade increased to £8.6bn in 2017, driven by more business with the Republic of Ireland and other EU countries.
However, overall year-on-year growth of 9%, or £700m, was the lowest of any UK region.
Sales of goods to the EU accounted for 56% of total exports, up by 3%, on 2016.
The figures have been published by HM Revenue and Customs.
The Republic of Ireland remains the number one destination for exports - in 2017 the value of that business rose by 15%, or £350m, to £2.7bn.
Decline in business with US
Imports into Northern Ireland from the Republic also went up by £100m to £2bn.
There was a big decline in export business with the United States, down by 16%, or £272m.
However, the country is Northern Ireland's second largest export partner.
Overall, about a quarter of Northern Ireland's exports are classed as machinery and transport equipment.
The figures do not reflect business between Northern Ireland and Great Britain, which are categorised as "external sales".
Great Britain is Northern Ireland's most valuable market, with sales worth £14bn annually.