NASUWT may 'name and shame' NI schools on pay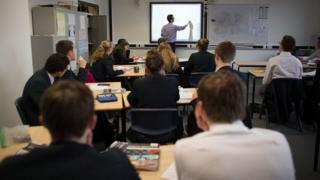 A teachers' union has said it may name and shame schools that underpay substitute teachers.
The National Association of Schoolmaster and Women Teachers (NASUWT) said some eight voluntary grammar schools have not been paying the full amount.
The union's national official in NI, Justin McCamphill, said teachers had lost out on up to £50 per day.
"We are disgusted this small minority of schools are doing this," he said.
He said that most schools had stopped the practice after the union raised the issued with the Department of Education, which then "reminded those schools of their obligations".
However, he added, the union has lodged a case with an industrial tribunal for one teacher who was not fully paid by a school.
"She has been underpaid by £54 per day. We believe it's a disgrace that this is happening.
"Teacher pay regulations state quite clearly what the rate of pay should be - we are fighting hard for this teacher and we will fight hard for any teacher who has not been paid the correct rate."
He said that the schools were "exploiting teachers".
"When you think about it, if a teacher challenges it they (the schools) simply don't invite them back for any more work," said Mr McCamphill.
The issue will be debated at the NASUWT's Northern Ireland conference on Friday and Saturday, with some members calling on the union to name and shame schools that underpay substitute teachers.
"One of our local associations from mid-Ulster has brought forward a motion, they're calling for us as a union to actually start naming and shaming.
"I would be quite confident that this motion will be passed and we are putting those schools on notice that we will name and shame them if they continue with this practice."