NI pension fund urged to get out of fossil fuels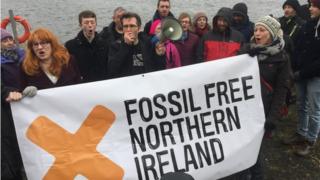 Anti-fossil fuel campaigners are to try and pressurise Northern Ireland's biggest pension fund to divest itself of hundreds of millions of pounds invested in oil and gas companies.
Fossil Free Northern Ireland wants the NI Local Government Pension scheme to cut its ties with major firms.
They include companies like BP and gas firm Centrica which has interests in shale gas exploration, or fracking.
But the fund has already said it will not take its money out of oil and gas.
Climate change
The pension scheme is the biggest in Northern Ireland and covers 118,000 workers employed by public bodies.
They include education and library boards, schools, colleges and universities, councils and Translink.
The pressure group says £155m worth of workers' money is directly invested in fossil fuel companies, with a further £193m indirectly invested.
The pension fund said its total pot is worth £7.7bn.
The campaign was launched at Woodburn Forest near Carrickfergus, County Antrim - the site of a dispute between campaigners and oil drilling company Infrastrata in 2016.
Drilling stopped when an exploratory borehole found only water.
Spokesman Niall Blakewell said most fossil fuels would have to stay in the ground in order to honour commitments set out in the Paris climate change agreement.
That deal committed countries to limiting warming to "well below 2 degrees centigrade".
The pressure group will encourage councillors to back them, before taking the case to trade unions and workers.
'Green investments'
A spokesman for the Northern Ireland Local Government Officers' Superannuation Committee, which runs the scheme, said "wholesale disinvestment from companies extracting fossil fuels is not part of its strategy".
He said to do so would entail losing the influence the fund exerted through its shareholder voting rights.
He added it had a duty to ensure its 118,000 scheme members got a good return on their investment.
The spokesman described it as a responsible fund which also invested heavily in green energy firms including Tesla, the electric car company.
NILGOSC is also taking legal action against BP as a result of the 2010 Gulf of Mexico oil spill when an explosion killed 11 workers and caused what is considered to be the biggest environmental disaster in US history.