MPs vote to publish NI party donations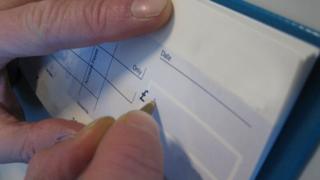 The Electoral Commission will soon be free to publish details of donations to NI political parties.
MPs voted to approve a statutory order providing for greater transparency on party funding.
Labour and the SNP objected to the order because the government set July last year as the date after which all donations and loans of more than £7,500 should be made public.
The opposition parties argued it should have been backdated to 2014.
Transparency
The government countered that not passing the order would mean that there would be no transparency around party funding here.
The measure, known as the Transparency of Donations & Loans (NI Political Parties) Order 2018, was brought to the House of Commons on Monday.
Usually, secondary legislation such as this would be passed without a vote, but after Labour objections, MPs voted in what is known as a "deferred division" on Tuesday.
With the Conservatives applying a three-line whip, the measure passed by 308 votes to 261.
The decision not to backdate the publication of donations has prompted criticism from some campaigners for political transparency.
It means no details of any donations made during the EU referendum campaign of 2016 will be made public.
That includes a controversial £435,000 donation to the DUP from a group of pro-union business people called the Constitutional Research Council (CRC).
The CRC is chaired by Richard Cook, a former vice-chairman of the Scottish Conservative and Unionist Party.
It is expected the first political donations could be published as early as next week.