Five NI patients 'made 800 emergency ambulance calls'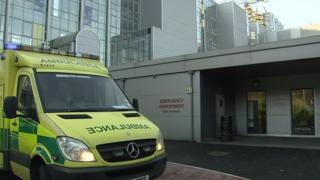 The five most frequent callers to the NI Ambulance Service dialled the service almost 800 times in a year, figures obtained by the BBC show.
The figures show that in 2016-17 the five people called for an ambulance 782 times, but a person was taken to hospital on only 138 occasions.
The most frequent caller contacted the service 251 times.
An ambulance was sent to them 37 times, and they were taken to hospital 11 times.
Another caller requested an ambulance 152 times and was taken to hospital 30 times, while the third most frequent caller was taken to hospital on 35 of the 142 times they dialled the service.
Winter pressures
The average time from when the ambulance was dispatched to when it became available for another call was 69 minutes.
The overall number of calls made to the NI Ambulance Service rose by over 9,000 between 2015 and 2016.
The statistics also confirm the existence of winter pressures: December 2016 was the busiest month in the period in question, with more than 21,000 calls.
The NI Ambulance Service said unnecessary calls could potentially put lives at risk.
"A caller who contacts the service inappropriately is essentially tying up both our emergency call takers and our ambulance crews meaning that other more critical emergencies may be have to wait longer for a response," said a spokesman.
"A minority of frequent callers contact the service for completely inappropriate reasons."
UK-wide figures show ambulances and emergency response vehicles were deployed more than 1,500 times to five patients from November 2016 to the following October.
A total of 8,303 emergency calls were made by the five most frequent UK callers.
The figures were released after a Freedom of Information request to the UK's 14 ambulance trusts.
The NHS said the calls were often related to:
Mental health
Chronic pain
Alcohol or drug dependence