More than £50k missing from Lurgan charity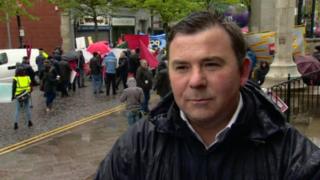 More than £51,000 is missing from a County Armagh-based charity that has been closed down by the charities' watchdog.
Its former chief executive, Damien Harte, has previously confirmed he was questioned by police investigating dissident republican activity.
He denied any wrongdoing.
The charity, Growth for Adolescents and Providing Support (Gaps), was set up to improve the wellbeing of young people in the Lurgan area.
An investigation by the Charity Commission has found that at least £51,400 is missing.
The commission said the cash was "noted as received by the charity" but "cannot be traced through the charity's accounts".
'Highest form of investigation'
"This loss to the charity has been reported to the police," it said.
The commission also said:
Documents and details supplied to the commission were fraudulent and documents supplied to other funders were fraudulent.
Charity trustees failed to demonstrate proper financial control, and no activities by the charity were evidenced by the commission as furthering the charity's purposes.
The commission initially opened a regulatory case to investigate the allegations.
"However, the conduct of charity trustees in their submissions, mismanagement of the charity and lack of co-operation demonstrated sufficient risk for the commission to act using its most serious powers," it said.
"As a result, on 26 June 2017, the commission's investigation was escalated to statutory inquiry, the highest form of investigation open to the commission."
The charity has now been closed.
'A nonsense'
The head of Gaps, Damien Harte, was removed as a trustee last year.
Mr Harte describes himself as "an active campaigner" on different issues.
He stood for election in 2015 with the Workers Party but he is no longer with the party.
In December, he confirmed that as well as being asked about the charity, he had also been questioned by the police in relation to ongoing inquiries into dissident republican activity.
He said that happened because he had previously attempted to mediate between police and members of Republican Sinn Féin at a march in Lurgan, and he denied doing anything wrong.
"To suggest I'm involved in anything like that is a nonsense," he said.
Mr Harte could not be contacted on Tuesday night for comment about the missing £51,400.
The charity was based at the Centrepoint Leisure Complex in Lurgan, where it hired sporting facilities such as indoor football pitches but, other than that, it had no connection with the centre itself.