Belfast man jailed for 'machete' attack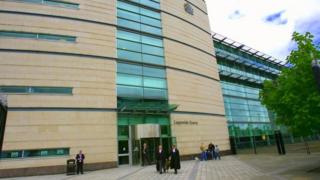 A Belfast man "befuddled" by drugs when he attacked a man with a "machete", has been sentenced to a total of five years and nine months in jail.
The judge at Belfast Crown Court told David James Franic Smith it was "an exceedingly serious offence" that fortunately did not have "a fatal outcome".
The attack sparked a high-speed police car chase ending in a crash.
Smith, 35, from Monagh Drive, was also given a three-year driving ban.
Guilty plea
He pleaded guilty to wounding with intent to cause grievous bodily harm, dangerous driving and resisting police.
The judge said that while the weapon was differently reported as being, swordlike, a machete, or an iron bar, as claimed by Smith, it mattered little, as a weapon was used in a deliberate attack.
A prosecution lawyer previously told the court that, on 9 December 2014, a man was leaving to go to work when he was subjected to a sustained attack by Smith armed with a machete.
Police cars
He said that fortunately for the victim his injuries were much less than they might have been.
The lawyer said that after the attack Smith took the man's Renault Laguna car, driving dangerously as he attempted to avoid two pursuing police cars.
The car crashed at Monagh Link in west Belfast, but that Smith managed to evade arrest.
Some days later, he gave himself up to police, but presented them with a prepared statement, setting out an alibi for the day in question.
Large quantity of drugs
Smith's defence lawyer said he had "carried out the attack at a time when befuddled by a large quantity of drugs", which "uninhibit him" as to the consequences of his actions.
The lawyer said if Smith had intended to cause really serious harm, he could have.
"He is six feet three inches, well built and if carrying a weapon and intended to proceed in attempting to cause serious injury to his victim, undoubtedly he would have done so," the lawyer said.