Litter 'still an eyesore on NI beaches'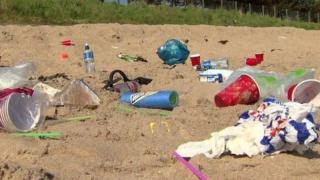 More than 400 items of litter were found on every 100m of beach in Northern Ireland last year.
The figures are in an annual report by Keep Northern Ireland Beautiful.
The bulk of the items were plastic and polystyrene. String and cord, drinks cans, rope, cotton buds and fishing equipment were also prevalent.
Data has been collated from clean-ups on 10 beaches around Northern Ireland for the past five years.
This year's average litter concentration is a 3.5% decrease on the previous year.
The beach with the highest concentration of litter was Ballyhornan, and the one with the lowest was Ballywalter. Both are in County Down.
The figures meant an average of five pieces of litter for every footstep taken along the shore, said Ian Humphries, chief executive of Keep Northern Ireland Beautiful.
"The onus is now on all of us - as individuals, as consumers and as voters," he said.
"We must use our freedom of choice to help drive the necessary changes that we are just now starting to see take shape."