Man charged over shop fire on Donegall Street, Belfast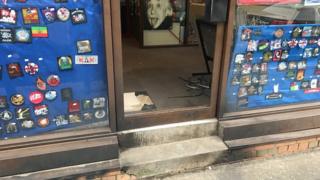 A man has been charged over an arson attack on a shop in Belfast, which was set on fire while three people were inside the building.
The incident happened in Rip-Off on Donegall Street on Friday 23 February.
No-one in the shop was injured but they were said to be "badly shaken" after a man poured a flammable liquid around the store and set it alight.
A 36-year-old man has been charged with arson with intent to endanger life and is due in court on Tuesday.
The accused has also been charged with possession of a Class A drug.