NI traveller community 'out of sight, out of mind'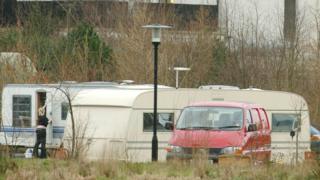 A lack of adequate facilities and housing for members of the traveller community in Northern Ireland amounts to an "out of sight, out of mind" attitude, according to a new report.
The Northern Ireland Human Rights Commission said it had found 13 systematic concerns around traveller accommodation.
These included inadequacy of sites for travellers and racial discrimination.
The report will be launched officially later on Tuesday.
It makes 45 recommendations in order to tackle the problems it outlines.
Les Allamby, chief commissioner, said travellers face "the unpalatable choice of living in poor conditions to retain their culture or moving into standard social housing at the expense of their way of life".
'Square pegs'
"We have found examples of inadequate facilities such as washing units not fit for purpose in the Northern Ireland climate, fire and other health and safety issues that need to be remedied," he said.
"The commission is concerned that legislation, policy and a lack of service provision amounts to an attitude of 'out of sight out of mind'."
He added that the commission had "found an erosion of nomadic life through the policies and practices that have been developed and applied to travellers and travellers' accommodation".
"This needs to change," he said.
A traveller interviewed during the course of the investigation told the commission that "all travellers are square pegs and (the public authorities) are trying to place them into round holes".
Another traveller said that those in the community can feel isolated when they move into a house.
"There's nothing to do... you walk out the door of a caravan everybody's there, but you walk out the door of a house and there's nobody there."
Among the other "systematic concerns" highlighted in the report was provision of traveller-specific accommodation, resources for traveller accommodation and a lack of emphasis on travellers being involved in the decision-making process.
The Housing Executive said it would take the report's findings on board.
In a statement, the executive said: "We are already implementing many of the actions which are included in the commission's recommendations.
"As recommended in the report, we agree that increased participation and consultation with the Irish Traveller community is needed.
"In terms of the accommodation requirements of the Irish Traveller community, we are completing a needs assessment and will consult with the Irish Travellers and the wider community on housing need/ preferences and land availability."