Mining group CDE Global to buy Caterpillar factory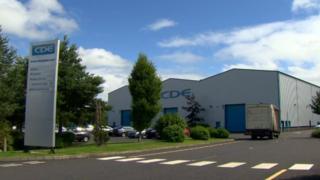 A Tyrone mining products company is to buy the factory being vacated by Caterpillar in Newtownabbey.
The move could lead to new jobs in the area.
CDE Group, based in Cookstown, will take over the Monkstown manufacturing plant in September, but details of the transaction have not been disclosed.
CDE said it expects sales of its equipment to double by 2020 and acquiring the factory will "enhance employment."
The plant is more than 300,000 square feet in size and is "ideal for the fabrication of complex equipment".
It said the purchase would ensure the continuation of "world class manufacturing" in Monkstown.
Last year, Caterpillar announced it was closing the plant and concentrating its workforce in Larne - a move that cost more than 200 jobs.