Rugby rape trial: Court may sit on Saturday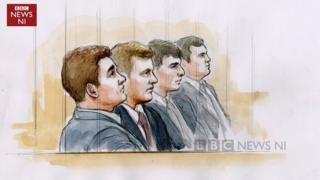 The rape trial involving two Ulster rugby players may hold a hearing on a Saturday for the first time.
The unusual step was announced on Monday by the judge after hearings in front of the 11-person jury were delayed as another juror has taken ill.
Last week, a juror was discharged due to ill health.
At the start of the sixth week of the trial, the judge told the remaining 10 jurors that a hearing may take place on Saturday to try to make up time.
She added: "I can't say at this stage when the trial will resume. That depends on the juror."
The judge also warned the jury again not to discuss the case with anyone.
She told them: "Please be on your guard and avoid situations where you think people might put you under pressure.
"Just tell people you can't talk about this trial."
Last week, the prosecution case concluded, and the jury was told the defendants would now have the opportunity to give evidence, if they wished to do so.
Paddy Jackson, 26, from Belfast's Oakleigh Park, denies one count of rape and one count of sexual assault.
Stuart Olding, 24, from Ardenlee Street, Belfast, also denies rape.
Two other men have also been charged in connection with the case.
Blane McIlroy, 26, of Royal Lodge Road, Belfast, denies one count of exposure.
Rory Harrison, 25, of Manse Road, Belfast denies perverting the course of justice and withholding information.