DUP leader 'handed over draft Stormont deal in person'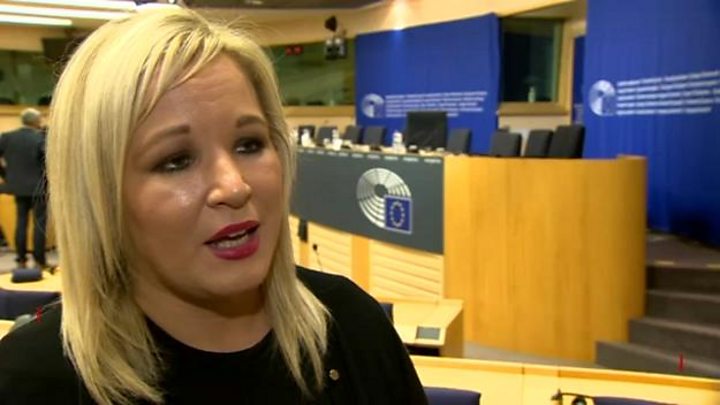 Sinn Féin's Michelle O'Neill has said the leader of the Democratic Unionist Party handed her a hard copy of a draft power-sharing agreement days before the Stormont talks collapsed.
The parties disagree on whether a draft deal existed before talks broke down.
Speaking in Brussels during Brexit talks, Mrs O'Neill said Arlene Foster gave it to her in person on 9 February.
Mrs Foster responded that "draft papers" were exchanged on a daily basis - but that none had any standing.
"They were an exchange of ideas between negotiating teams," said Mrs Foster.
"I can categorically state there was never any agreement reached."
'Incontrovertible proof'
Earlier, Mrs O'Neill has said that the DUP's public version of events "did not add up".
She said the document was the result of hours of negotiation and she was "100%" crystal clear that an agreement had been reached.
Last week, journalist Eamonn Mallie produced "incontrovertible proof" that this was the case.
He produced "an email chain" between a DUP adviser and the head of Michelle O'Neill's office.
Analysis: BBC News NI political correspondent Gareth Gordon
The DUP would surely love the story of whether Arlene Foster handed a hard copy of the draft talks agreement to her Sinn Féin counterpart Michelle O'Neill to disappear.
But there seems as much chance of that happening as there does a deal to put devolution back together again.
It's no great surprise that Michelle O'Neill has now "confirmed" it happened - or that she is "crystal clear" agreement had been reached.
It would have been surprising if she had not.
But it pours more fuel on a fire that, if anything, is spreading.
Remember this is a document of which Gregory Campbell said: "There was no agreement, accord, draft or otherwise."
Nigel Dodds said he would be "highly surprised" if his party leader had handed the document to Michelle O'Neill.
That was before the journalist Eamonn Mallie said he had "incontrovertible proof" and produced an e-mail chain between a DUP adviser and the head of Michelle O'Neill's office.
Part of this read: "Arlene gave Michelle hard copy earlier but have been a couple of small tweaks since then to copy she had."
So far Arlene Foster has said nothing.
With the question being asked louder than ever, that may be a position she finds hard to sustain.
Earlier, DUP deputy leader Nigel Dodds had said he had no knowledge of Mrs Foster giving Mrs O'Neill a draft on 9 February.
Asked on BBC NI's The View on Thursday if Mrs Foster had given the 13-page document to Mrs O'Neill, Nigel Dodds said "that's news to me".
"I would be highly surprised if that happened," he added.
But in an email timed at 19.52 GMT on 9 February published on Mr Mallie's website, the DUP's Philip Weir tells Sinn Féin's Stephen McGlade "attached is latest overall text we have".
"I told Conor (Sinn Féin MLA Conor Murphy) would send u through.
"Arlene gave Michelle hard copy earlier but have been a couple of small tweaks since then to copy she had."
'Rejected it'
On Friday, DUP MP Sammy Wilson told BBC's Inside Politics show: "Any agreement between the DUP and Sinn Féin would not have been done by our negotiators.
"The negotiators are not the people who make the deal, the people who make the deal are the party as a whole, and the party as a whole rejected it."
However, a DUP spokesman said: "The talks collapsed without agreement because there wasn't a fair and balanced deal.
"The DUP stands ready to form an executive without any preconditions. That's our preferred outcome.
"However, we are now focused on delivering a budget for schools, roads and hospitals through Westminster and ensuring there is a sensible Brexit."