Sinn Féin 'meeting of minds' with EU chief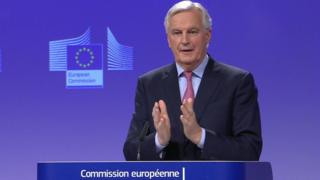 Sinn Féin shared a meeting of minds at talks with the EU's chief negotiator on Monday, the party said.
Party President Mary Lou McDonald made the comments after she and her party colleagues met Michel Barnier in Brussels.
It follows comments from Prime Minister Theresa May that she did not want to see a hard border between Northern Ireland and the Republic of Ireland.
Ms McDonald said the issue was now "in Mrs May's court".
She said the British government had to come up with Plan A and Plan B, and there could be be no overall agreement on Brexit unless the issue of the border was solved.
The Sinn Féin leader said her party was "not looking for a border down the Irish Sea".
She said there was now a challenge for Mr Barnier to "hold steady", but that "he gets it" on the issue of Brexit and the border.
Mrs May has also said she did not want a customs border between Northern Ireland and the rest of the UK.
The prime minister was responding to a legal text published by the EU as part of the Brexit negotiations with the UK.
The EU's draft legal agreement proposes a "common regulatory area" after Brexit on the island of Ireland - in effect keeping Northern Ireland in a customs union - if no other solution is found.
Mr Barnier hosted a Sinn Féin delegation including party president Mary Lou McDonald, vice president Michelle O'Neill and MEPs Martina Anderson and Matt Carthy.
Sinn Féin is keen to stress that there should be a special status for Northern Ireland.
The party wants to know how Brexit will affect cross-border workers and will insist that the 1998 Good Friday Agreement must be protected.
The Sinn Féin president believes the only way to avoid a hard border is for Northern Ireland to remain within the customs union and single market.
The Irish border question is at the heart of EU-UK discussions and although a number of options have been tabled, there is no agreed plan of what life will look like after Brexit.
Mr Barnier set up the series of meetings this week with Sinn Féin and the Democratic Unionist Party (DUP) to gauge opinion.
On Tuesday, he will get a very different perspective when he hosts the DUP leader Arlene Foster and her deputy Nigel Dodds in Brussels.
The DUP opposes special status for Northern Ireland and are against staying in the customs union or single market.
The party insists that recent EU proposals would break up the UK.
Nigel Dodds has said an internal border would be "catastrophic" for Northern Ireland to be "cut off" from UK.
Last week, Taoiseach (Irish prime minister) Leo Varadkar said he remained "concerned that some of the constraints of leaving the customs union and the single market are still not fully recognised".
He added: "We will now need to see more detailed and realistic proposals from the UK. Brexit is due to happen in a little over 12 months, so time is short."