Karol Kelly murder detectives granted 36-hour extension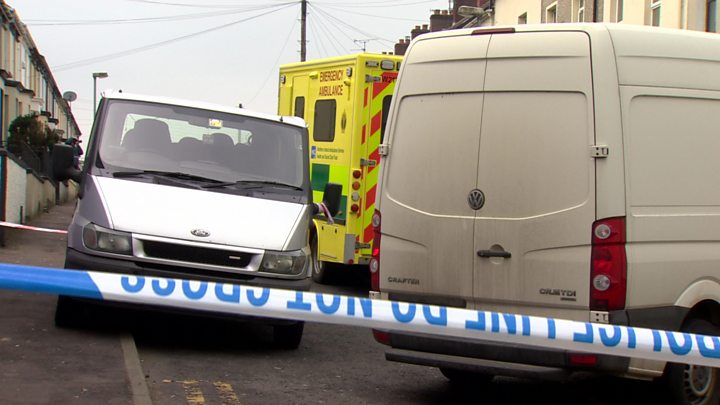 Police investigating the murder of a man who was stabbed to death in Londonderry have been given an extra 36 hours to question two men.
Karol Kelly, 35, was attacked during a fight involving a group of men in Grafton Street, Rosemount, at about 02:40 GMT on Sunday.
Mr Kelly was the father of five children aged from three to 15.
The men in custody are aged 19 and 20. A 27-year-old, who was also arrested, has been released on police bail.
Police described the murder as a "violent and senseless attack" which had caused "widespread shock and distress" within the Creggan area of Derry.
Det Supt Jason Murphy said: "My thoughts first and foremost go to Karol's family who woke up yesterday morning to the horrific news about the murder of their loved one.
"He was a father to five children aged between three and 15 years old and they all now face a lifetime without his presence.
"Karol was a devoted son, brother and uncle and he also leaves behind a partner."
Witness appeal
The officer added that people in Grafton Street "may hold vital information" which could help the murder investigation.
"I would particularly like to speak to anyone who was in the Grafton Street or Park Avenue areas of Derry on Sunday morning between 02:30 and 03:00.
"This includes people who were in the area prior to the altercation taking place and also anyone who witnessed the murder," he said.
Earlier, two teenage girls who heard the attack told BBC Radio Foyle that they had no idea a man had died after they "heard shouting outside".
"We were looking out the window and we just heard things, we couldn't see anything, but then we looked out again and saw about four Land Rovers coming up and police arresting people.
"You just heard swearing or whatever, and then the police coming and taking them.
"Then both ends of the street were cordoned off and there were so many police everywhere.
"We were thinking it's not going to be anything too serious, it's just going to be a fight or a party that's gotten out of hand."
Sinn Féin's Elisha McCallion, the MP for Foyle, said the community and the city were "left devastated by the terrible news".
"It is very early stages in the investigation and the police are asking for any witnesses to come forward and let themselves be known," she said.
Mark H Durkan, an SDLP MLA for Foyle, said that the "whole city was in shock and sadness at what has happened."
"The family have a long and hard road ahead and it's important to know that we're behind them and the whole of Derry are behind them on that journey," he said.