Armagh family build a bull from snow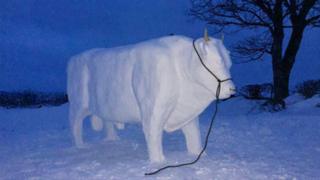 We have had countless snowmen and women, igloos too, but a County Armagh family have used the recent snow to build something 'udderly' original, a life-size replica of a Charolais bull.
The impressive artwork took several hours to complete in a field on the Cavanakill Road outside Newtownhamilton.
"It's a Charolais bull which are white anyway, " said Nadene Bailie.
Nadene's two daughters, her husband and two brothers-in-law were all involved.
"It took them about five hours to build it. It looked absolutely brilliant, a real masterpiece," she said.
'Considerabull'
"Unfortunately though as soon as they had finished it, it started to collapse.
"We got some great pics, but it's a real shame it didn't last longer given all the work that went into it."
Would the artwork fetch a 'considerabull' amount of money on the open market?
"As a joke, one of the boys Andy tried to sell it online," said Nadene.
"He described it as being from the Coolontheknees herd, calling the bull Coolontheknees Stormzy."