Weather warning for Northern Ireland is extended to Monday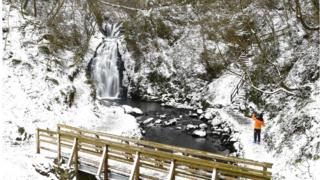 A yellow weather warning for ice for Northern Ireland has been extended until 11:00 GMT on Monday.
There has been continued disruption on the roads over the weekend.
In the Republic of Ireland, Irish weather service, Met Éireann, said a Status Orange snow-ice warning has been extended until midday on Monday.
This is for Leinster, Cavan, Monaghan, Cork, Tipperary and Waterford.
It has warned that lying snow and ice will continue to lead to hazardous conditions.
The forecaster says there is a risk of localised flooding due to rising river levels and there will be areas of surface water pooling.
A Status Yellow snow-ice warning is also in place for Connacht, Donegal, Clare, Kerry and Limerick, with Met Éireann saying lying snow and ice will continue to cause hazardous conditions.
The Republic of Ireland's National Emergency Coordination Group has advised the public to check for accumulations of melt water which could lead to flooding.
Irish Defence Forces said on Sunday they had deployed 1200 staff and 350 vehicles "in a range of tasks to support the civil authorities during this extreme weather event".
They said their focus was in supporting "essential services provided by the Health Service Executive (HSE)".
"Our teams are providing doctor/paramedic access support, patient transfer and logistical support in clearing snow and ice at critical locations," they added.
"The majority of Defence Forces assets are currently deployed in Wexford, Kildare and Laois."
Irish Water has said that a number of reservoirs are running low due to "unusually high demand".
This has led to water restrictions in some areas and Irish Water has appealed to people to conserve water.