George Mitchell in warning over hard Irish border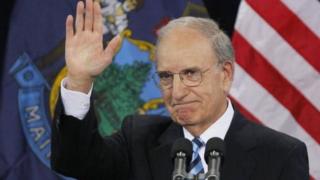 Former US senator, George Mitchell, has warned that the peace process could be harmed if a hard border was reinstated between NI and the Republic of Ireland after Brexit.
He said border checks would not inevitably result in a return to violence.
However, he warned that the risk of that happening was "high enough".
Mr Mitchell brokered the Good Friday Agreement.
"The real danger for a hard border is not the immediate resurgence of violence although that certainly is a problem," he said.
"It is the change in attitude.
"If you reinstate a hard border you go back to the days when stereotyping resumes, demilitarisation resumes and people turn inward as opposed to outward and they lose the benefits that come from open borders."
Earlier this week, Prime Minister Theresa May said an EU proposal for the Northern Ireland border threatens the "constitutional integrity" of the United Kingdom.
The EU's draft legal agreement proposes a "common regulatory area" after Brexit on the island of Ireland - in effect keeping Northern Ireland in a customs union - if no other solution is found.
Mrs May said "no UK prime minister could ever agree" to this.
The EU says the "backstop" option is not intended to "provoke" the UK.
EU chief negotiator Michel Barnier called on the UK to come up with alternatives.
Mrs May said in a speech on Friday that the UK has a "responsibility to help find a solution".