RHI inquiry: Cost control delay 'inexplicable'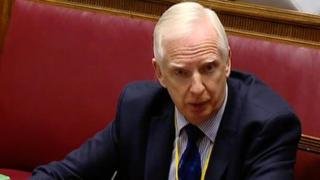 A senior civil servant says cost controls should have been introduced to the RHI scheme in early 2014 but has no explanation why they were not.
David Thomson was one of three top managers in the Department of Enterprise Trade and Investment at the time.
He was completing his evidence to the public inquiry into the energy scheme.
He said cost controls which were included in a public consultation in 2013 should have been brought forward.
He said he did not know why it had not happened but said there had been "no conscious decision" to defer them.
He said had that decision been taken he would have expected to have been told and it ought to have been escalated to the minister Arlene Foster.
He also said that he did not know why a planned review of the Renewable Heat Incentive (RHI), which could have caught flaws in it, had been put back.
It was meant to have taken place in January 2014 with any changes being implemented by the following year.
'Along the line'
But the inquiry was told documents showed that it had moved from being "central" to becoming "discretionary".
Mr Thomson said the review was an important action and had been key to departmental approval for the RHI scheme.
He said he did not know how it came to be postponed and ultimately did not take place.
"Somewhere along the line someone is making these decisions," said inquiry chair Sir Patrick Coghlin.
Mr Thomson accepted that he bore a degree of responsibility for the department losing sight of the need for the review.
Later the inquiry was told how a big expansion of the poultry industry had driven uptake of the scheme.
About half the boilers in the scheme are on poultry farms.
More birds
Moy Park was spending £300m across Great Britain and Northern Ireland to take advantage of a decision by UK supermarkets to source only UK chicken.
The intention was to increase the number of birds produced every week from four to six million.
It drew up a strategy where each new poultry house would require an indirect hot water heating system.
It could be fired by biomass as well as oil or gas.
Moy Park circulated expansion information to its farmers.
Its promotional material showed a 20-25% rate of return on investment for biomass.
The department's expectation, which had been communicated to Europe as part of state-aid approval, was that the RHI subsidy would provide a rate of return of 12%.
Mr Thomson said the department would have been well aware of the proposed expansion of poultry as it was a key plank of a government strategy to expand the agri-food sector,
He said the strategy was a government priority in 2013 and one in which the minister Arlene Foster, her special adviser Andrew Crawford and the executive were heavily involved.